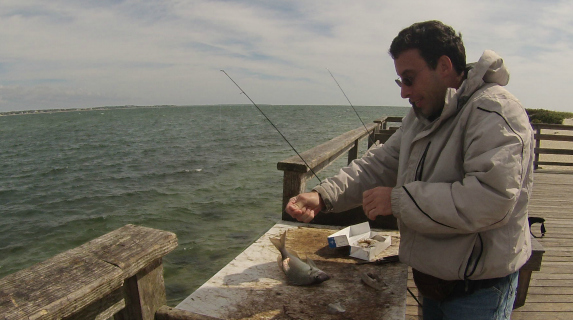 This is a guest post written by MFCC contributor Garet Suomala
I went fishing at Dowses Beach with Ryan a couple weeks ago before work. We fished on the fish pier instead of the nearby jetty, because the pier is a flat surface, which is much safer for me, compared to the slippery rocks of the jetty.
The second reason I like fishing from a pier is because when we caught fish, it was much easier for me to take them off the hook. For example, my balance is not so good and it would not have been safe for me to try to unhook the fish while my feet were slipping all over the place.
Also, casting was much easier for me on the solid surface of the pier compared to the slippery surface of a jetty, or the rocks along the Cape Cod Canal. So I guess that's why I like fishing on piers and in this report I'll tell you more about fishing at the Dowses Beach fish pier.