*Are you looking for more in-depth big bass information, as well as friendly and helpful answers to your fishing related questions?
 Sign up as a blog member and check out our recent threads in the Member's Forum.  Post a question, share a tip, report or a story – we are growing rapidly and would love to have you on board!
Labor Day Weekend Fishing Reports
It was pretty obvious that this past weekend was one of the busiest weekends of the entire summer season on Cape Cod.  I don't think I've ever seen so many boats out there on the water!
I can't blame everyone for wanting to get out and do some late summer fishing.  The bite has been good and the weather has been spot on.  You know summer is winding down when you have to wear a sweatshirt when getting the boat ready at 3AM.
On Sunday I met Robert, Andy, Jim and Brian who had traveled down from upstate New York to enjoy some off-roading and some Cape Cod fishing.  Robert and Andy were with me a few weeks back during an epic bite that was almost as good as the action we had in July that was caught on camera in the insane live eel bite video.
I had a feeling that the fishing Sunday morning would be a bit challenging.  Not because of lack of fish but due to the "bumper boat effect."
Striped Bass Fishing in a Fleet
When the fleet of boats is pushing the 100 or more mark, I spend just enough time trying to avoid other boats as I do trying to stay on top of the fish.  It's nobody's fault, it's just the way it goes.  A lot of boats in a confined area makes it that much more challenging for everyone.
For instance, if we find a big school of fish that seems to be moving in an easterly direction, we generally attempt to also head east with the bass.  You run into problems if there happens to be 30 boats directly eastward of you.
I would rather not speed directly through the center of the fleet, and usually go around the boats, or putt slowly through the fleet, dodging boats to the left and to the right.  Unfortunately all this bobbing and weaving makes it next to impossible to remain zeroed in on the bass.
This was the case on Sunday (and on Monday to a lesser extent), and I think we sacrificed a few fish because of it.  However we all still had a great time on the water, and managed to boat a half dozen bass up to 28 pounds.
I was content and so was the crew, which is always the #1 priority!
Big thanks as always to the crew from NY for another successful trip.  I'll be looking forward to seeing the rest of the Adirondack fishing crew on September 29th.
Cape Cod Fishing with Some New Amigos
Yesterday I met up Jose, Rene, Joel and Doris from Worcester.  What a gorgeous morning we had out there yesterday.  Flat calm with a perfect sunrise-the kind of morning that you think about during a January snowstorm.
The crew had driven all the way from Worcester to meet me at 5AM.  If they were tired they certainly showed no visible signs of fatigue, and only became more energetic as we cruised out on a flat as a pane of glass ocean.  I knew right from the get-go that this crew would be a lot of fun, which always makes the fishing much more enjoyable.
No matter what we did yesterday we could not get away from the dogfish.  The good thing was that the dogfish at first proved to be pretty entertaining.  I think when you spend a lot of time on the water, it's easy to overlook how amazing it is to have a dozen or more dogfish swarming around your boat.  Sure it makes the striped bass fishing tough, but it is actually pretty impressive if you think about it.
The Worcester crew seemed pretty intrigued by all the dogs, which reminded me of when I first encountered swarms of dogfish years ago.  Nevertheless we needed to get away from the dogs and plop ourselves directly on top of a big school of bass if we wanted to put any fish in the boat.
I maneuvered us around  a bit and right on the edge of the mass of dogfish was a huge blob of striped bass.  The fish were sucking down bait right off the surface all around us.  The crew cast out and were immediately hooked up with a pair of drag screaming bass.  These were no dogfish!
Everyone did a nice job throughout the rest of the trip as we dodged dogfish, bluefish and other boats in an effort to zone in on the scattered bass schools.  We logged a lot of miles and unhooked a ton of dogs but we still managed to land 5 bass up to 32 pounds.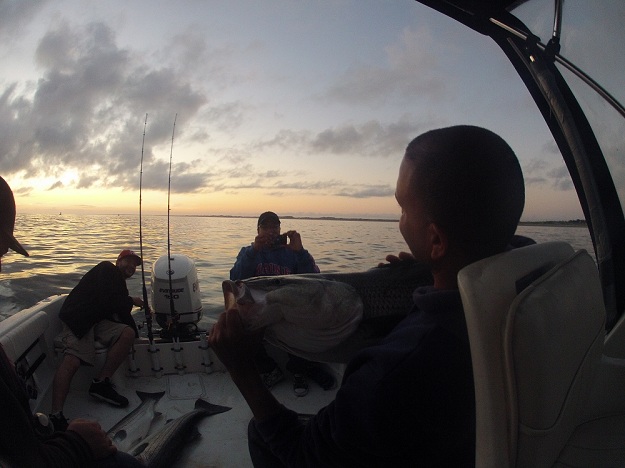 Thanks again to Jose, Rene, Joel and Doris for coming down.  It was great to meet all of you.  I hope the traffic back to Worcester was not too bad!
For more detailed information about this past weekend's fishing, sign up as a blog member and check out the Member's Forum.
Right now we have over 150 members partaking in one of the friendliest and helpful fishing forums on the web – we are still small by comparison to the "big" forums, but you need to start somewhere and we'd love to have you on-board!
Good luck fishing if you are able to get out this week,
Ryan
You may also like