This is a guest blog post from John D. Silva.  I met John last year and we went striper fishing with live eels a few times together during September.  He's a really great guy to have on the boat, plus he is a great writer, photographer and fisherman.
Actually, John is an award winning outdoor writer and photographer with over 40 years experience fishing inland and coastal waters in the US and Canada. An active member in the New England Outdoor Writers Association, John has published feature articles, columns, and photos in a variety of popular outdoor publications, including On the Water Magazine, Eastern Fly Fishing, Sporting Classics, Coastal Angler, and The Fisherman among others.

Lucky for us he also knows a lot about fluke fishing.  I asked John to write up a fluke fishing article this past week after he informed me that they had done well fluke fishing out somewhere in Vineyard Sound.  Fortunately for us he agreed to do it!
Thanks again John for taking the time to write this up!
If you're idea of fluke fishing is the embodiment of playing tug-o-war with a living, angry manhole cover, then you may find that you have to go deep to find those big-shouldered bruisers. While casual anglers are bunched up on the flats competing for their share of "just–legal" shallow-water adolescents, those who desire a bigger challenge are patrolling the deeper water adjacent to those same flats, fishing in 40, 50, 60, even 80-feet of water or more.
Fluke Fishing Gear and Tackle

Gear and tackle for deepwater fluking starts with a stout medium or medium-light spinning or bait-casting rod. The reel should have a smooth, dependable drag. Spool the reel with modern super-braid line (15 to 30 pound test) for superior strength and sensitivity. Braided line also creates less drag in the water, allowing you to hold bottom more effectively.
The basic deep-water fluke rig begins with a 2- to 4-ounce bucktail jig (size is dependent on current) attached to a 3-way swivel. Add a 2- to 3- foot trailing leader and a longshank or offset fluke hook. Or simply use a pre-made commercial fluke rig, (shown here).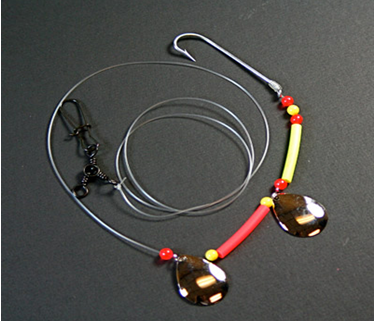 Effective fluke fish-attracting teasers include rubber squid, beads, bucktail, colored tubes, soft plastic teasers, and bright shiny spinners. Once rigged, you can sweeten the deal with a strip of bait and/or an artificial equivalent (such as Berkley Gulp) and add it to the trailer hook and the jig, (the really big fluke will often hit the jig).
Any combination of squid, pork rinds, sand eels, live chubs, even thin strips sliced out of the white underbellies of the fluke themselves can be effective. If you really want to go all out for a potential trophy doormat, then you have to think big.
Try live-lining small snapper bluefish, mullet, or scup (porgy) along the bottom. Fluke are voracious feeders and will aggressively attack baitfish up to 8 to 10 inches in length. Similarly, a thin fillet carefully sliced from a small or medium-size baitfish (such as mackerel, menhaden, etc.) and drifted along the bottom can also work well. Fluke will also aggressively hit metal jigs and weighted soft plastics when actively jigged along the bottom.
Fluke Fishing Techniques | The Finer Details
Once hooked, a large fluke can be tough to pull off the bottom, as they stubbornly cling to the sea floor much like a sunken truck tire. Once they are finally pried off the bottom, that's when the real battle begins. When you finally manage to get the fish up to the side of the boat, the fluke—most especially large fluke—can be very difficult to bring in.
The thin membrane around the mouth of the fish is not strong enough to support the weight of the thrashing fish as it is being pulled over the rail. This is where a good, wide, sturdy net becomes an invaluable tool. So don't forget the net.
Unlike other forms of fishing, fluking is often more productive in bright, clear, sunny weather than it is in overcast conditions or twilight. For best results, a brisk, consistent drift is extremely important. The stage of the tide, current, and wind direction all contribute to help keep the boat moving along at a good clip and cover a wide, productive area of ocean floor.
If the boat is not moving with the current, (such as when the wind and tide are diverging in opposite directions, effectively holding you in place) then your chances of fluking success will be significantly reduced. If your rig is not consistently holding bottom, don't hesitate to add more weight. Holding bottom is the most vital element for fluke fishing success.
Click here for information on some of the best areas to target doormat fluke this summer off Cape Cod.
Stay tuned for more insider articles from John and other local experts as we continue to grow!