Honestly, I was skeptical of this the minute I saw the raw filet sitting on my counter.
Now, I have eaten a lot of striped bass in my day thanks to the super talented fisherman I get to call my future husband, but when I saw this I really wasn't so sure.
And you know you're with a fisherman when he brings home the filets, nape and all.
I've heard people say that the nape of the bass, meaning the meaty part of their chin/throat area, is the most tender part of the whole fish, so I knew we had to give it a try.
Ryan reassured me this would taste similar to lobster meat, and you know what? He was kind of right!​
More...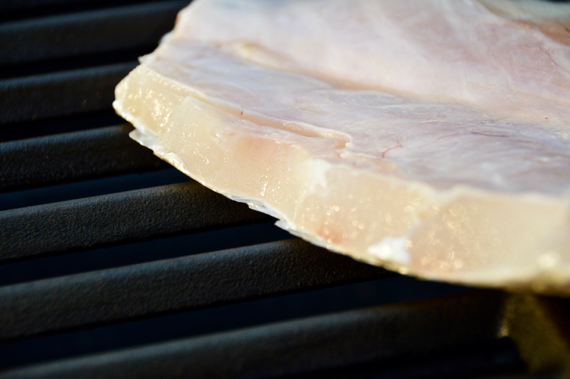 After grilling it with a little salt and pepper, we simply shredded it with a fork then tossed it with some whole wheat linguine in some olive oil, butter and little more salt and pepper and voila!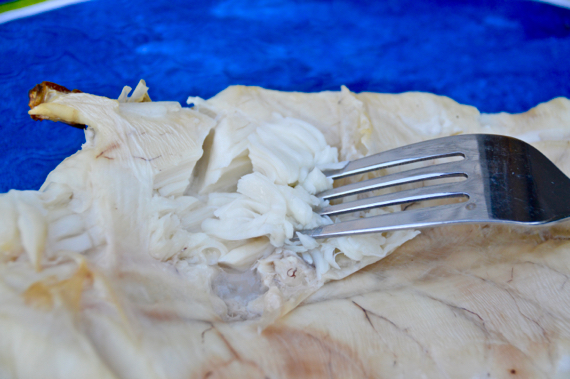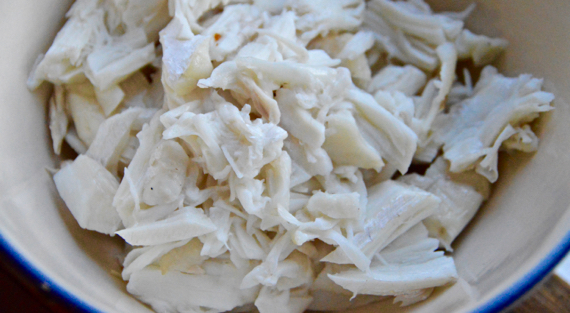 The garnish of basil gave it a little more pop of color and flavor, but chives or parsley could also work well with this dish.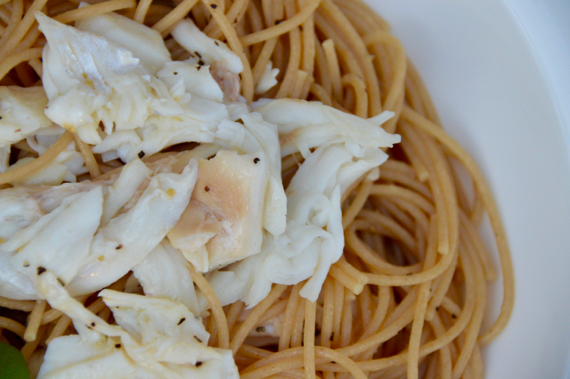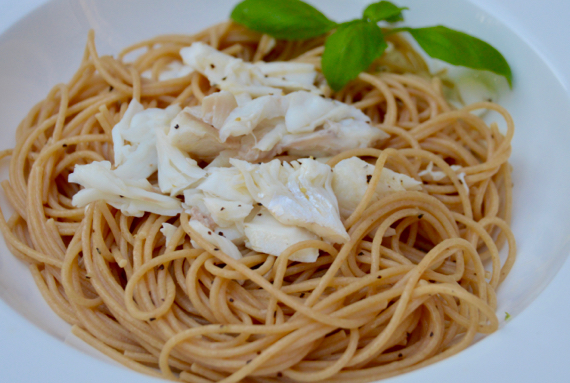 If you can't get your hands on this particular cut of fish, then lightly shredding the meat of a striped bass would be great as well.
I hope you are able to give this a try – it's a simple, light meal that delivers a ton of flavor.
Buttery Linguine with Shredded Striped Bass
Prep time:
Cook time:
Total time:
Generally a good serving of fish per person is about 1/4 - 1/2 pound. Ryan leans towards the larger amount while I lean toward the smaller amount, which is why I say this can serve 2-3
Ingredients
1 lb striped bass or (recommended) the nape of the neck from the striped bass
salt and pepper
enough whole wheat linguine to serve 2-3 people - each serving of dry pasta should be about the size of a quarter
1/4 C good olive oil
2 TBS butter
optional garnishes: parmesan cheese, shredded basil leaves (about 3 leaves per serving)
Instructions
Cook pasta according to directions.
Heat a grill or a grill pan over medium-high heat. Season fish with salt and pepper and place on the grill. Grill the fish on each side until you see char marks, about 5-8 minutes per side. Once cooked, remove from the heat and shred with a fork.
Combine olive oil and butter with the cooked linguine and season with salt and pepper.
Serve pasta in a bowl and spoon fish over the top. Garnish with what you like - you can even make this spicy with red pepper flakes.
Enjoy!
Through the eyes of a fishermans' wife, I'm excited to share my cooking and photography with you here on MFCC. You can learn more about cooking, and get more recipes by visiting my website Creatively Delish.