Welcome! This page contains everything you need for fishing the Cape Cod Canal. Click here to get my best Canal articles and videos sent directly to your email inbox for free.
Scroll down the page or use the links below to access our Cape Cod Canal fishing content:
A Brief Canal Intro…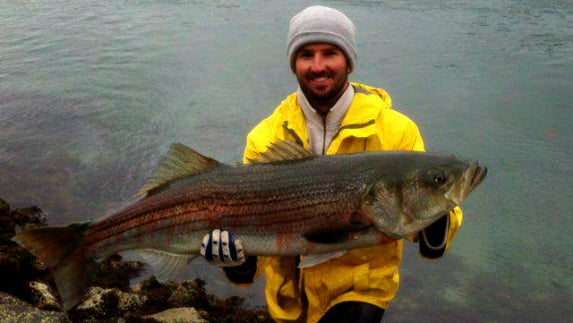 Cape Cod Canal fishing can be extremely exciting, fun and challenging – all at the same time.  The Canal is a unique and special striped bass fishing destination for many anglers along the East Coast of the United States.
Throughout the decades, many knowledgeable Cape Cod Canal fishermen have caught enormous striped bass from the "Big Ditch."  Stories of 60 pounders inhaling pogies in 3 feet of water, become legends, passed down through the years in bait shops and local bars.
To become truly proficient at fishing the Canal, you will have to invest time and energy to studying the craft.  To truly excel, you'll want to consider devoting your life to fishing the Big Ditch-which many passionate anglers do.

New to the Canal? Read On
If you are just getting started fishing the Cape Cod Canal then I would definitely recommend learning proper "Canal Etiquette" before fishing the Big Ditch.
To make life easier for you, I put the most crucial must-know Canal etiquette information into a compact and easy to read eBook which is free to download.
Download your free copy of the Canal etiquette eBook by clicking here or on the image below.
  I feel this eBook will get you started on the right track. Keep me posted with how things are going!

Get Canal Fishing Info Delivered To Your Email
Most of the Canal information on this page is reserved for My Fishing Cape Cod members. You can start a membership today for just $1 to access all the content below.
Or I can send you some of my best Canal content directly to your email inbox for free.  Click here to get some of my best Canal information via email for free

10 Steps to Catching Fish at the Cape Cod Canal
If you'd like to learn how to catch a striped bass or bluefish at the Cape Cod Canal, then this MFCC member tutorial can help. Just make sure you are logged into the site before clicking below:
Plugging the Cape Cod Canal
Jigging the Cape Cod Canal
Locating Prime Jigging Spots
How to Understand Cape Cod Canal Tides
Here's a Quick Way to Fish the Cape Cod Canal Without Getting Frustrated
Why are Certain Canal Fishing Spots Better than Others?
How to Avoid Losing Gear at the Cape Cod Canal
The 3 Best Lures for Fishing the Cape Cod Canal
Night Fishing for Big Stripers at the Big Ditch
Could the Cape Cod Canal be the Ultimate Fly Fishing Challenge?
About the Author:  Ryan Collins is a passionate fisherman and founder of My Fishing Cape Cod.