One of the most exciting parts about spring on Cape Cod is the arrival of bluefish. After a long winter, nothing gets the adrenaline pumping like casting top water plugs to voracious blues off the southside of the Cape.
One of the best areas for this type of fishing is South Cape beach in Mashpee. If you are looking to shake off the fishing cobwebs this spring, then I highly recommend casting top water plugs at Soutch Cape during the month of May.
South Cape Beach Bluefishing 101
This particular afternoon, now a full decade into the past, was unusually warm by Cape Cod standards. I recall driving into the South Cape Beach parking lot and noticing how the sun reflected nicely off the white caps that were heaving in at the beach from Vineyard Sound.
The weatherman had nailed the forecast on the sunshine, but had dropped the ball on the wind, which was cranking at around 30 knots. Grains of sand propelled by the strong breeze stung my cheeks as I made my way down to the water's edge. It felt good to hear the waves and smell the salt after such a long harsh winter.
There were birds diving about 30 yards offshore down to my right. After a quick jaunt I was greeted by hordes of squid and some very enthusiastic sea gulls. The scene was set for my first bluefish blitz of the year.
Within minutes acres of bluefish had invaded the beachfront. The fish slashed and crashed through squid in water as shallow as six inches. Each cast provoked a catastrophic top water hit, followed by a lengthy fight on light tackle. Some casts even produced two bluefish-one fish on the plug's front hook and one fish on the tail.
I remember bailing bluefish (which serve as perfect live bait for tuna by the way) until the sun sank low over the horizon, casting a shadowy silhouette of Martha's Vineyard over the Sound. Today I am not much of a bluefish fan, however that trip 10 years ago has been etched into my memory as one of the most fun spring time surfcasting trips of my life.
Whether you love them or hate them, bluefish are trucking northward as you read this article. Get the top water plugs ready because a true bluefish bonanza could break out in Vineyard or Nantucket Sound at any moment during the next few weeks.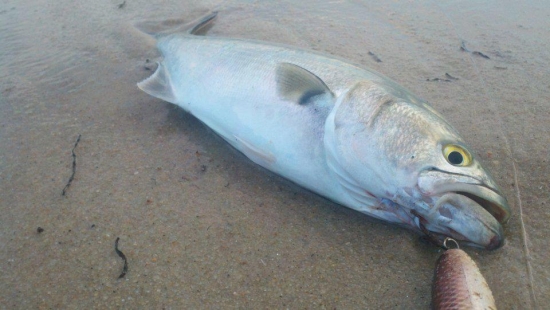 Squid
Squid are one of the more delicious items on the bluefish' menu. Fresh calamari is difficult to beat. Often times I hear fishermen curse at bluefish for driving squid away from many inshore locations around the Cape's south side. I can certainly empathize with this point of view.
Squid are also very agile creatures. They are top predators in their own right, feeding on minnows and other small organisms. The squid's athleticism requires bluefish to exert an enormous amount of effort in order to catch them. Unforgettable top water action is more of the norm than the exception when bluefish are on squid.
Where to Go
Well known hot spots like South Cape and Popponesset produce bluefish blitzes each May. South Cape has fantastic access and acres of parking. However the great fishing coupled with easy parking often draws crowds to the beach.
Basically any south facing Cape beach has the potential to host a spring time bluefish blitz-which is great for those of us who desire a bit more elbow room. Getting away from the masses and exploring new territory is the best way of finding your own personal hot spot.
I can even recall a day a few years ago when Craigville Beach lifeguards ordered everyone out of the water due to a bluefish blitz, and probably for good reason. From a bluefish's perspective a hand full of fingers does not look all that different from the tentacles of a fresh squid.
For boat anglers there is certainly no shortage of shoals and rips that will hold big and small bluefish this month. However shoal water can be tricky and downright dangerous if the wind is cranking against a big tide. The price of hitting a rock with your boat is definitely not worth a three pound bluefish.
What to Use
The name of the game is top water, top water, top water. Cheap beat up plugs work well against the sharp teeth of blues. Snap-on wire leaders are also a smart addition to the business end of you line. Replacing treble hooks with single J hooks will help make unhooking Mr. Chompers a bit easier.
When fishing from the surf, casting distance (which is critical when fishing the Cape Cod Canal) is often times the most important factor contributing to bluefish success. If you have a favorite plug, but could use a few more yards of casting distance, try drilling a one inch hole in the tail end of the plug. Add a cylinder of lead or some bird shot to the hole. The extra ounce of tail weight will help to make the plug much more aerodynamic and will help to add an extra 10 or more yards to your cast.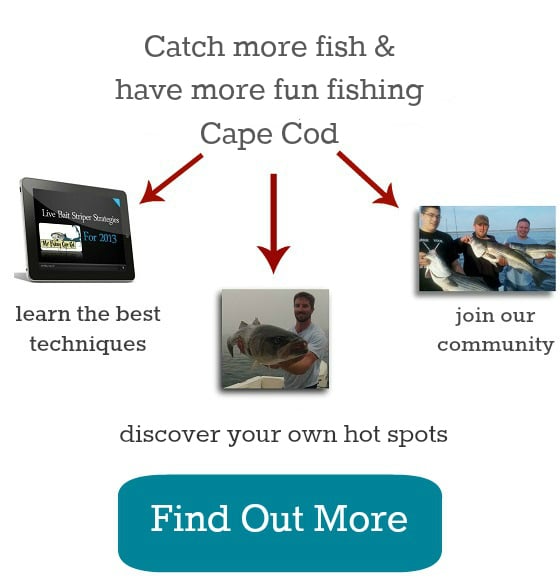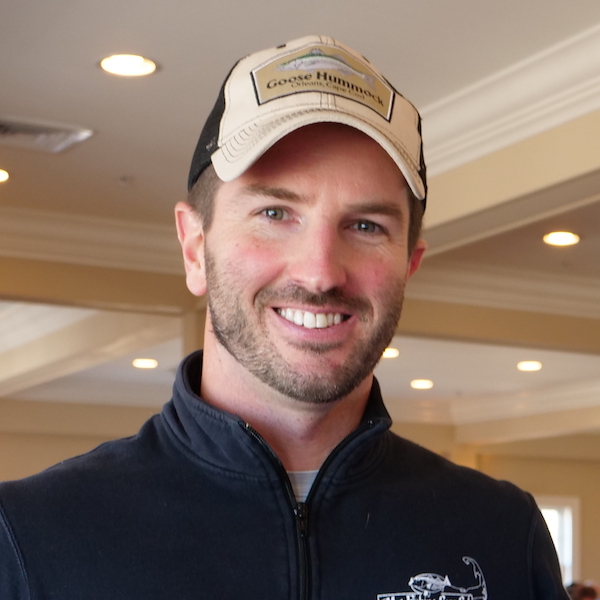 I'm fortunate to have grown up on the beach, and I've been fishing since kindergarten. I have great family, friends and fishing experiences to be thankful for. Just being out there is enough-catching fish is just a bonus!