Retired Director Of Mass DMF
As we descend into the depths of winter, I'm sure many of you are reflecting on last year's fishing, and wondering what 2019 has in store for us.
The inevitable issue of enforcement of marine fisheries statutes and regulations, given the recent extensive poaching that's gone on in recent years, is an issue of concern to many of My Fishing Cape Cod's members.
I thought it appropriate (in case you haven't heard) to summarize the recent changes, as well as review the other enforcement tools available to regulators and enforcers.
Although this update hopefully covers most of the bases, those who wish to learn more information are urged to visit the Division of Marine Fisheries (DMF) website.
More...
When encountering a scenario where marine fisheries rules or statutes are being violated, the Environmental Police have a number of options ranging from verbal and written warnings and non-criminal citations to arrest, depending primarily on the severity of the violation(s) as well as other factors.
The non-criminal citation is primarily used for minor violations and has three tiers of fines linked to the particular reg or statute being violated. These tiers and the statutes and regs assigned to them have been around for many years and haven't changed much, except the fines were doubled across the board when the 2018 climate change legislation was signed into law by Governor Baker.
Increased Fines Now In Effect

Striped bass violations are in the middle tier, and have increased from $100 to $200. Although I'm sure many of you feel that striped bass violations should result in public floggings or worse.
The framers of this ranking reserved the highest tier, with the fine increasing from $200 to $400, to spillers of raw sewage and/or oil into coastal waters, shellfish harvesting from contaminated water, etc. There are always extenuating circumstances, but obviously these violations usually receive more severe criminal attention.
You may ask if there is a limit to how many non-criminal citations can be issued to the same individual and whether there is an escalating degree of severity for subsequent violations. One retired Environmental Police Captain told me he recalled one non-criminal citation per year limit, but doesn't know if that policy is still in effect. I'll check on this further. I've also been told that there is a record of issued non-criminal citations.
Another new provision of the 2018 law is the establishment of a fine per illegal fish of $10. I know, $10 for an illegal striper? That's ridiculous. This is a statutorily imposed fine, so changes must be and will likely be addressed through the Legislature in the future.
Bridging the gap between non-criminal fines and criminal prosecutions is the newly enacted civil penalty of up to $10,000 which is handled by the Attorney General to address serious violations. This is significantly more than the "cost of doing business" that the poachers are so prone to react to when assessed non-criminally and should serve as a strong deterrent.
Moving into the arena of criminal violations, an officer(s) can issue a court summons to violators or in severe cases, arrest them. Most minor violators cited criminally are summonsed into court and receive a fine. Remember, criminal violations are under the jurisdiction of the Courts with all their issues.
I don't want to dwell on how fish and game violations fare in the courts other than to say there is an enormous range of outcomes from very positive to extremely frustrating. It's a situation that needs to be addressed but more appropriately in a broader forum than here.
There is a sleeper provision in the newly enacted law that you should be aware of. The mishmash of criminal penalty schedules throughout Marine Fisheries Laws in Chapter 130 were overhauled and simplified. Severe violators will now face fines ranging from $400-$10,000 and up to 2 ½ years in jail.
Seizures Of Equipment

Any and all equipment in the possession of violators when cited can be seized by the EPO(s). If the court proceedings end up in a guilty verdict, the seized equipment can be sold or otherwise disposed of.
Seizure of illegal fish is a common occurrence, and given their perishability they are disposed of quickly. Cars, trucks, boats, rods and reels, etc. pose a challenge because they have to be safely secured. I believe the Environmental Police have storage facilities and enclosures for that purpose.
I'm sure some of you recall the recent case of a poacher who was caught in the Canal with illegal bass.
The EPOs seized his Shimano Stella Reel and Lamiglass custom rod but had to return them when the charges against him in Court were inexplicably dropped. He did get his gear back but subsequent actions by the EPOs and DMF more than made up for that temporary setback which serves as a segue to introduce the last and very significant tool in the enforcement box.
Loss Of Right To Fish

In my experience, most fishermen, recreational and commercial, greatly fear the loss of their right to fish through permit sanction. The adjudicatory hearing process empowers the Division with the power to suspend, revoke, condition, not renew or deny transfer of violator's fishing permit(s).
Egregious violators can be summoned before an impartial magistrate for a hearing and who, after hearing the evidence brought by the Division, Environmental Police and the violator, will decide on an outcome.
Recently DMF, Law Enforcement and the Dept. of Fish and Game have ramped up this process. Two noteworthy decisions come to mind...
In Conclusion

The effectiveness of the above enforcement actions is dependent on sufficient and efficient deployment of manpower. The Environmental Police have been severely criticized for not getting the job done. The rank and file field officers have borne a major part of this criticism, but the problems for the most part go way beyond their pay grades.
The agency has been severely understaffed, up to 50% in recent years. This is being partially addressed with a number of newly hired officers undergoing training for near future deployment.
The top leadership of the Environmental Police has been deplorable with two political hacks having been appointed as Colonel for the past twelve years. Fortunately, this is changing with the removal of the latest hack and the installation of a career EP Captain into the Acting Colonel slot. There are other problems besetting the Environmental Police that will need Legislative remedy, but positive things are happening.
Most importantly, if you witness a violation-CALL IT INTO THE HOTLINE.
1-800-632-8075
If you see an EPO, introduce yourself and discuss what you've witnessed. I have the cell numbers of at least a dozen officers who've urged me to give them a call with intel. Sure, you're not going to reach them every time and, yes, sometimes the hotline doesn't respond, but don't give up - that's what the poachers hope for.
Keep the faith
Phil
What do you think?
Let me know by commenting below.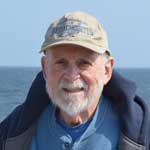 Phil Coates is the retired former director of the Massachusetts Division of Marine Fisheries. A resident of the Town of Bourne, Phil fishes for a variety of different species (both freshwater and salt) from his 21ft Hydra-Sport, and his 9ft row boat.