I've been fishing since I was eight years old, however I still have a euphoric feeling after my son Ryan and I landed a 9 foot long, 780 pound giant tuna this past Friday.
I have been chasing giants rather unsuccessfully since my teenage years. I've caught plenty of cod, haddock, mackerel and stripers but giant tuna had always eluded me.
The entire ordeal took several hours, yet all the highlights are recapped in the 8 minute video below. Please click play to watch.
More...
This experience will stay with me forever, and I have a great respect for this incredible fish. Needless to say I will be replaying this video below and reliving this day in my mind for the rest of my life.
Today I told my wife that after catching this tuna, I had the same feeling I had when my two kids were born! I am really happy to be able to share this event with everyone here on My Fishing Cape Cod.
For more information about giant bluefin tuna fishing on Cape Cod, please click the "download" button below.
780lb Tuna - More Info
Members of My Fishing Cape Cod can download
even more information about:

Type of bait used to catch this tuna
Information on the gear, equipment & tackle

More than 100 additional "members-only" articles & videos

about targeting bluefin tuna here on Cape Cod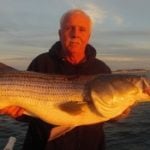 Boating has been part of my life since I was a boy hand-lining for mackerel from a dinghy. When Ryan of MFCC was young, we'd spend our days fishing from our 12ft tin boat. Today I still enjoy boating with Ryan, my daughter Katelyn, and my lovely wife Kathy.