It has been one heck of a morning!
Today began at 2:45AM up in Boston.  I had spent the past few days in Brighton with Lauren, but after hearing about big bass in the Cape Cod Canal I knew I had to get back to the fish.
I was just about the only car on the highway all the way to the bridge which was definitely a nice change of pace.  Finally at around 4:40AM I settled down in my honey hole along the rocks of the Big Ditch.
It felt more like October this morning than June-that is for sure.  Of course after my second cast the sky opened up and began raining.  I watched as the brisk NE breeze blew sheets of rain from east to west down through the Canal.  Of course I had forgotten my rain coat at home.
A Pretty Tough Start To The Trip
After about 5 casts my braided line managed to tie itself into one heck of a killer wind knot.  I had to cut and retie and ended up losing a ton of line.
I completely emptied my spool on the next cast and only saved losing everything by quickly flipping the bail over at the last second.  It wasn't even 5:30AM and I was soaked to the bone, freezing and almost out of fishing line!
Instead of getting all ticked off I made a move, left the Canal and headed back to the barn to grab a coat, a hat and a new spool of line.  Fortunately I had a back up spool ready to go so I wasted minimal time re-rigging.  By 6:15AM I was back on the rocks, waiting for the fish to show.
Problem was there was really no life whatsoever.  No birds, no bait, no one hooked up and no bass on the surface.  I found myself a comfortable rock (if there is such a thing), snuggled into a crevice, and patiently waited for some sign of activity.
I sat there for about 15 minutes.  I remember thinking something along the lines of - "Well I'm guaranteed to not catch a thing with my hook out of the water, so I might as well take a couple casts."
So a couple casts is exactly what I decided to do.  And on my second cast something awesome happened.
A Giant Hole Opened Up And Sucked Down The Plug
I chucked my little homemade, absolutely horrendous looking pencil popper way out into the middle of the Ditch.  The current was running pretty good so I just popped the plug back and forth as it floated downstream.  I was looking at a seagull over to my left when I heard a deafening SMACK!
There was a huge bass on my plug!  The fish had completely missed the popper but I had seen a huge dorsal fin just behind the pencil. I kept twitching the lure back and forth in the current.  Not more than 2 seconds later he came back full force and absolutely engulfed the plug.
My rod doubled over and line began screaming from the reel.  Thank God I had changed out the spool with a full load of braid!  This bass was dumping yards upon yards of braid in an instant.  Without debate I began hustling down the rip-rap after the fish.
I passed by a couple really nice guys, Monty and Kevin on my trek after the fish.  They stopped what they were doing, moved out the way and let me do my thing which was really awesome.  After a couple of minutes the fish had peeled around 150 yards of 40 pound braid and began digging for the bottom in tight to the shore.
It was now or never so I buckled down the drag and began working the bass against the current.  This guy had some serious weight to him and I could feel the fish digging for the bottom.  With all the jagged rocks in the Canal, I figured my best shot was to just horse the striper in and tighten the drag down even more.
I'm not sure how long it took to get the bass in towards shore but I began to gain good line on the fish after buckling down the drag.  The bass surfaced about 15 yards off the shore and rolled on his side, showing Monty, Kevin and I his belly.  Like most of the fish I've seen this year, this bass had some good girth to him and had been feeding well to say the least.
I eased him up towards the rocks and could see the single live bait hook (the kind we use for tuna) embedded in his jaw.  I reached down, grabbed the bass and brought him ashore.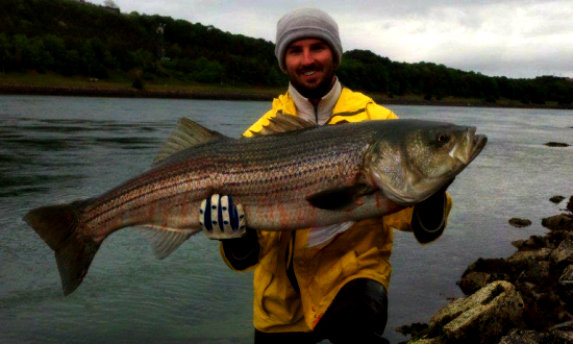 Man oh man was this guy beefy!  All three of us stood there on the rocks, smiles from ear to ear, admiring this beauty of a bass.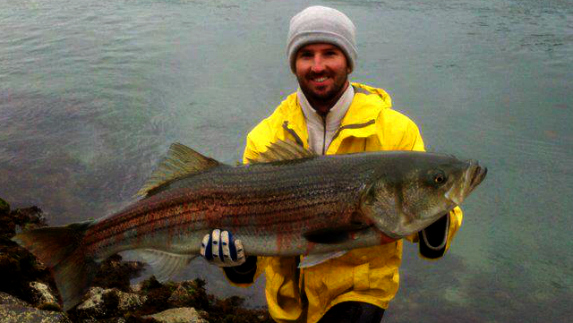 I think I was still in shock - good thing I got up off my butt and decided to take a couple casts!
What A Surprise!
The bass literally came out of nowhere.  None of us had seen any signs of life or seen any fish caught.  I must have just been lucky and by chance happened to plop my homemade 1-hook plug directly in front of the fish.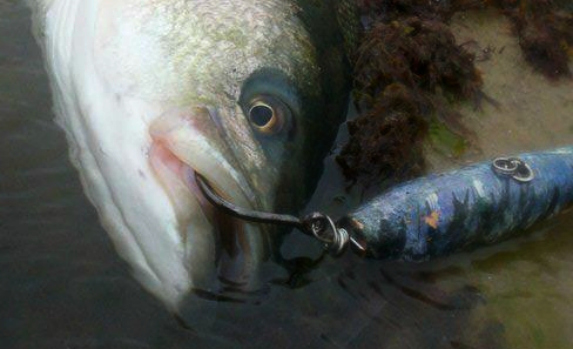 The bass tipped the scales at 45.7 pounds and close to 47 inches long - hands down one of the biggest (if not the biggest) bass I have ever caught.
Just a few pounds away from the coveted 50!
I decided to give the fish to Monty and Kevin.  They seemed like two real nice guys, plus the bass was bleeding pretty good from the gills.
Big thanks to Monty for some awesome photography work.  Can't beat meeting new friends down on the rip-rap.
I'm still in a bit of shock as I write this.  What an absolutely crazy morning-I can't wait to get back down there.
What do you think? Let me know by commenting below.
Tight lines and take care,
Ryan