Having sonar (AKA "fish-finder") on your boat is no guarantee that you'll actually find fish! Like anything else, sonar is a tool and the more expertise you have with sonar, the better you'll be at using it to find and catch fish.
In this post I will use sonar snapshots from this season and the 2013 season to help share what I know about using sonar effectively. This post should be of value to you if you have sonar but am not 100% confident using it.
Installing The Transducer

I learned firsthand the importance of properly installing sonar when I was in my teens. Back then I tried installing a Raymarine sonar onto my skiff, which I succeeded in doing.
However, I placed the transducer in the wrong spot on my transom, which resulted in lots of "noise" and cavitation readings appearing on my sonar whenever I cruised at a high rate of speed.
I should of spent $100 to get the job done properly by a marine mechanic who has installed hundreds and hundreds of sonars on all sorts of different hulls. Placing the transducer in the optimal spot on your transom is incredibly important if you want clear readings.
There are alternative ways to install a transducer, like going through the hull, however most folks will be installing the transducer on the transom. Here's what my transom and transducer look like.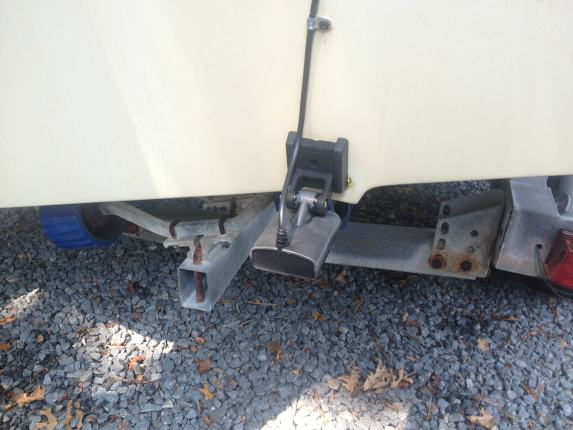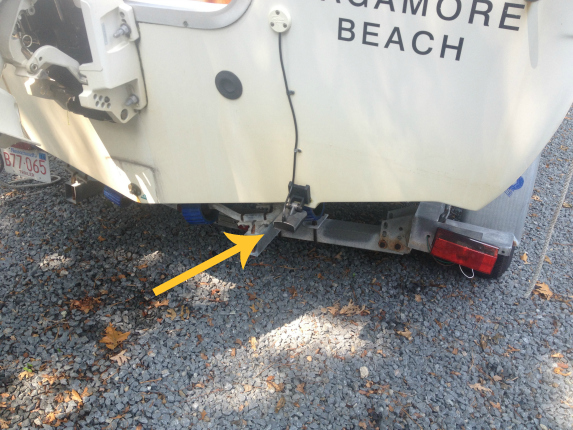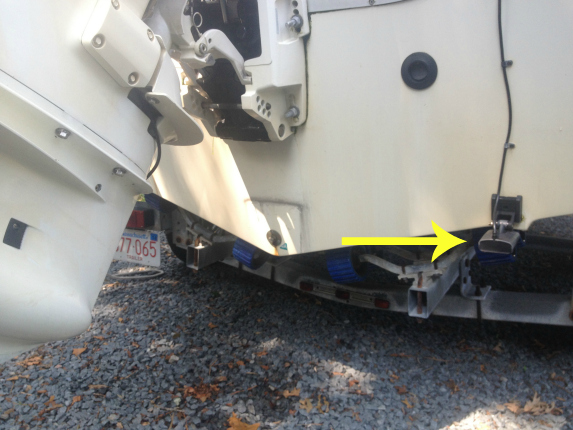 Tony from Eagle Marine in Sagamore Beach installed my sonar and transducer, and I get clear readings at speeds up to 27 mph.
Adjusting Sensitivity & View

I am currently using a Humminbird 798c SI, which has been discontinued by the manufacturer. However the Humminbird 698ci
is the same thing just slightly smaller.
Sensitivity
The first thing I do with my sonar when starting a fishing trip is make sure my sensitivity is set to 9. Sensitivity of 9 lets me cruise at a high rate of speed and still receive good marks.
The higher the sensitivity setting, the more detail your sonar will record. This can be helpful if you want to mark extremely small bait fish, patches of sea weed etc. However, the amount of detail can clutter up the sonar screen, especially when cruising.
View

I also like to adjust the view. If I am in 50 feet of water I adjust the depth so that the sonar displays a maximum of 55 feet. Or if I am in 200 feet of water and all the fish are suspended between 0 and 40 feet, I will set the maximum depth to 45 feet.
If you are bottom fishing you may want to focus only on the bottom.
Takeaway - Choose a sensitivity setting that gives you clear and easy to see marks, and choose a view that gives you the most detailed look of what's most important to see beneath your boat.
Marking Fish When Cruising

If your transducer is installed correctly and your sensitivity and view are set well, then you can easily mark fish when traveling at a high rate of speed.
A school of fish will appear as a vertical mark when cruising at a high rate of speed, as shown below.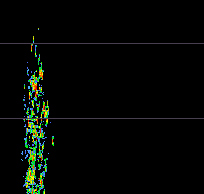 This can be pretty easy to miss if you're not paying attention to the sonar screen. It may appear insignificant, but this small mark at a high rate of speed could actually be a very large school of fish.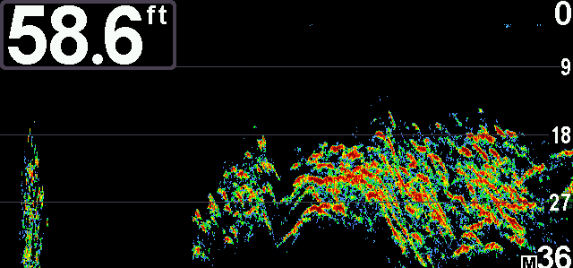 I feel that any sort of mark when cruising at speed can be worthwhile to investigate.
If you think about it, even a small mark can be a clue that a large school of fish is present. If the sonar beam only glances the side of a school, you may only record a very small mark on your sonar screen. Yet those small marks are just a tiny part of a much larger school of fish.
That's why I usually stop to investigate even the smallest marks, if I believe my sonar beam may have glanced the edge of a large school.
Interpreting Sonar Markings

On most sonar units striped bass, tuna and other large fish and animals will appear red or orange in color. Baitfish and weed appear more blue/green in coloration.
Basically the bigger and denser an object is, the more red it will appear in color.
In the below sonar snapshot I've pointed out bass and what I think are some sort of bait on which the bass are feeding.
Red arrows point to some of the bass, and yellow arrows point to some of the bait fish: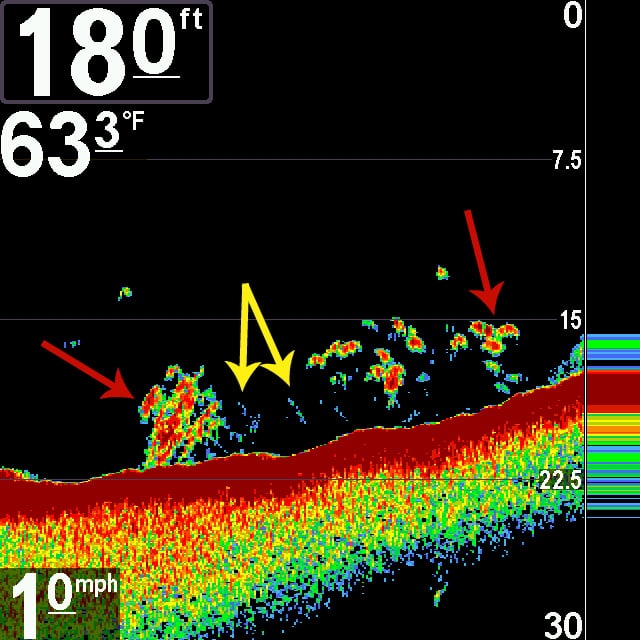 In the next sonar snapshot you can see bass holding tight to the bottom in a channel, right in the troughs, as sand eels pass above in the current.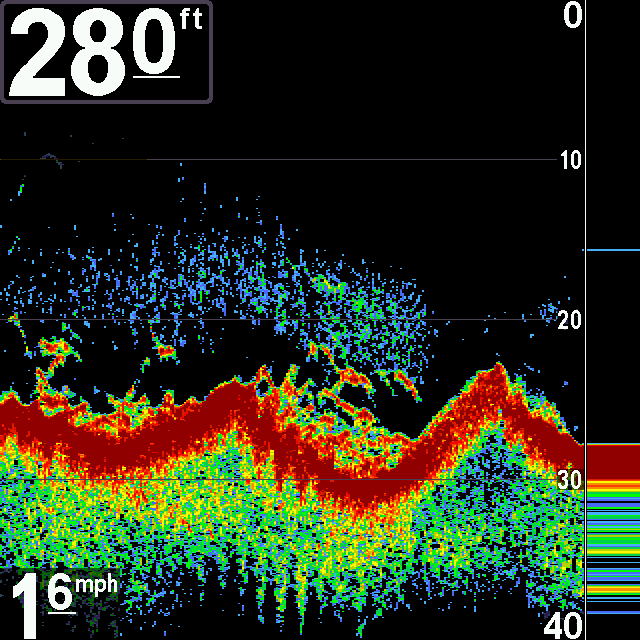 And in this snapshot the yellow arrow points at weeds growing off the bottom. The red arrow points to a small group of bass holding close to the bottom.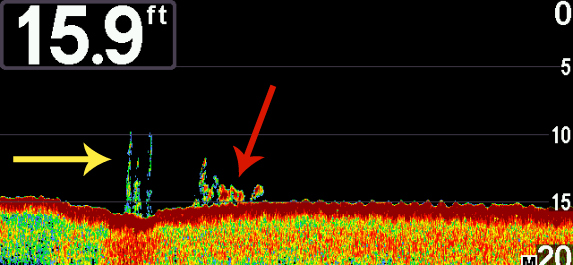 Understanding Cavitation

I think of cavitation as little bubbles that wreak havoc on sonar readings. Cavitation can be caused by your engine, the engines of nearby boats or in areas of current where water rushes over bottom structure.
I feel it is important to be aware of cavitation because it can be easily confused for fish. The last thing you want to do is spend an hour fishing over what you believe are fish, when in reality it is just a bunch of bubbles!
In the below photo the blue arrow points to cavitation caused by water rushing over a ledge.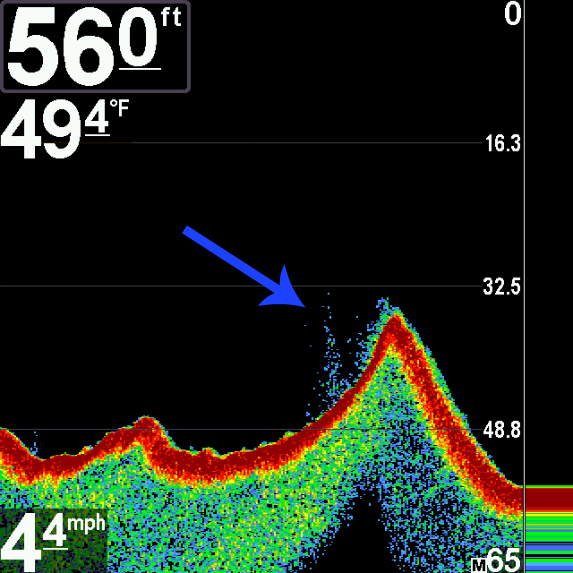 Again, this is not baitfish but is instead cavitation caused by moving water.
The only way to know whether you are marking fish or cavitation, is to understand the situation you are in. If there is a lot of moving water and structure that the moving water is passing over, then odds are it is cavitation - especially if the markings remain in the same exact spot and never change position.
Or if you are starting your engine, changing speed dramatically, turning the boat hard one way or the other....those actions can all cause cavitation. Rough weather which can cause the engine to pitch up and down can also cause cavitation.
What Do You Want To Know?

If you'd like, I can put together another post that delves in deeper to sonar and in particular side-scan sonar. Let me know if that would be of value to you by commenting below.
In the mean time tight lines and go get 'em ?
Ryan