The Cape Cod Canal has some of the strongest tides on all of Cape Cod.
During extreme weather situations the current inside the Canal can get cranking to almost scary speeds. It's always important to remain cautious when moving around on the Canal rocks when the tide is cranking.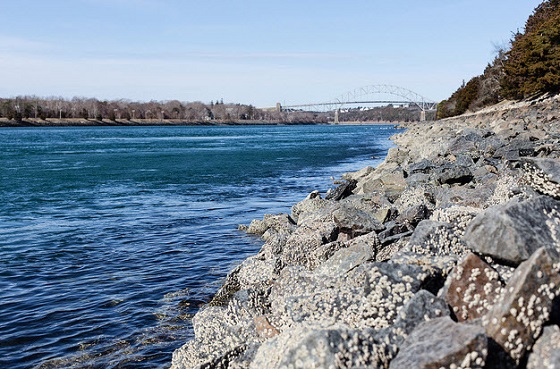 The strong current is the result of differences in water table levels between Cape Cod Bay and Buzzard's Bay. If the water level is lower in Buzzard's Bay, then the Canal's current will move westward. If the water level is lower in Cape Cod Bay, then the Canal's current will move eastward. When both levels are equal, the current in the Canal will be slack.
Having a firm understanding of the tides will help you locate more stripers, fish areas with more efficiency and ultimately catch a lot more fish.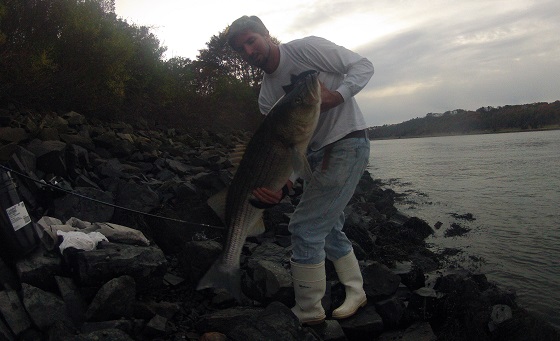 The West (ebb) Tide
An outgoing tide or ebb tide at the Canal is often referred to as the west tide. This is because the Canal's current moves towards the west during the ebb - out into Buzzard's Bay.
My favorite tide for jigging the Canal's bottom is the west tide. Most of the areas I like to jig fish better during the west tide for some reason.
My guess is that the pieces of structure that I'm jigging are formed in a way that is more conducive to west tide jigging. In other words, possibly there is a high rocky peak that blocks the current better when the tide is moving west.
Bass in the area recognize this and congregate around the piece of structure more often during the west tide than during the east.
Of course this is not a rule of thumb, as there are countless spots along the Canal that fish very well during the east tide such as ...[Join for $1 to access the full article]