---
Welcome to another episode of our weekly My Fishing Cape Cod fishing report podcast. From all of us here at MFCC, we hope you had a great weekend!
Today's show covers a lot of recent information, from giant halibut east of Chatham, to striped bass at the legendary Cape Cod Canal (plus much more).
As always, you can scroll below for an overview of today's show and to read the podcast transcript, or you can click here to start listening now.
More...
We start this episode with a call to My Fishing Cape Cod founder Ryan Collins, who was eager to provide us with this week's hot topics from the members' forum. In his update Ryan talks about a 54 inch halibut caught by MFCC member Carlton Geckler, as well as some nice 37-41 inch stripers taken in the canal recently by members. Ryan also did some wire line fishing in Cape Cod Bay a few days ago with Steve Leary of Wingman Sportfishing. In addition Ryan provides us with surfcasting updates, information about the offshore yellowfin and bigeye action at Veatch Canyon, plus more.
Cape & Islands Mitsubishi
Second in today's podcast is Bruno Demir - My Fishing Cape Cod member and owner of Cape & Islands Mitsubishi. In his conversation Bruno touches upon the fluke fishing at the Nantucket Shoals, and he provides us with a list of helpful tips for finding and catching big summertime fluke. According to Bruno there's been plenty of action at the Monomoy Rips and inside Cape Cod Bay, with stripers and bluefish readily available. In addition, Bruno touches upon where to find keeper black sea bass, as well as the big pogie schools which have fortunately returned to the Cape in big numbers so far this 2020 fishing season.
We wrap up today's podcast with captain Phil Howarth, co-owner of the Goose Hummock Shops in Orleans and Dennis. In his interview Phil covers the striper fishing action along the Outer Cape and in Cape Cod Bay. Phil also touches on the tuna action east of Chatham, up on Stellwagen Bank, and out at the canyons. Bluefish have also been around, and the cod are biting east of Chatham. This is a great listen for anyone hoping to do some boat or beach fishing this week on the Cape.
To listen to this week's podcast, please click play, or you can scroll below to read the podcast transcription.
---
- [Announcer] The My Fishing Cape Cod podcast brought to you by the Goose Hammock shops. Cape Cod's largest outdoor outfitter. Serving New England, since 1946. Shop them online @themightyfish.com.

- [Narrator] Welcome to the, My Fishing Cape Cod podcast. The My Fishing Cape Cod podcast is your local source for the latest news and information on Fishing Cape Cod. Now here's your host, Kevin Collins.

- [Kevin] Well, hello and welcome to another edition of the, My Fishing Cape Cod podcast here, from myfishingcapecod.com. This is your host Kevin Collins, coming at you with episode number two of our MFCC summer podcast season. And it's a thrill to be back with you. Once again, we've got another great show. We're taping on Saturday, July 25th and we're going to be led off by MFCC founder and creator, Ryan Collins. We're then gonna be joined by Bruno Demir, from down at Cape and Islands Mitsubishi and last but not least, we're gonna be joined by our good friend, Phil Howarth, who also joined us last week, from down at the Goose Hummock shops in Orleans. So a jam packed show for you, full of information today and let's lead it off with our first guest. Well, joining us right off the top of the show on the phone, like he always does, MFCC founder and creator, Ryan Collins. Ryan, how are you on this beautiful morning?

- [Ryan] I'm doing great, Kevin. Another awesome weekend, beautiful summer weather. I'm trying to enjoy every single day, here during late July.

- [Kevin] Absolutely, me as well. I can't wait to get outdoors and get down on the beach later today, but let's dive right in to our fishing report this week. I know the forum has been busy. A lot of people buzzing in there. Right off the top of the show, I wanna ask you about an item. a 54 inch halibut that we've heard of, that's been caught this week.

- [Ryan] Yeah, that's just pretty awesome. This was caught on July 21st. So, Tuesday of this past week, by Carlton Geckler and his crew out near the Regal Sword, east of Chatham. They had been tuna fishing earlier in the day. They reported seeing a few baits happen, but it was kind of slow. So they decided to start trying to jig for Cod, when they hooked what they thought was a small tuna. But like you said, ended up being an absolutely spectacular 54 inch long halibut. He posted the photo to the forum. Beautiful fish, you know halibut were heavily, heavily fished during colonial times, but nowadays they're pretty rare catch for recreational anglers. So it's just awesome to see this fish being caught. An awesome catch.

- [Kevin] And Ryan, I've heard from my network of guys down here in the Southern part of Plymouth, that the canal, kind of heated up a little bit early in the week and now is quieting back down a little bit. What have you been hearing about the canal over the past week since we've last visited?

- [Ryan] Pretty similar to what you heard, Kevin. I know there's been some big fish caught here and there. Occasional top water blitz, if you're in the right spot at the right time in the morning. So for example, I know Lamont Lopes, he got a nice 40 inch fish this week. Jason Coleman and other member, got a 38 incher down there and Rick Landry another member posted in the forum that he got a 37 inch. Frank Mead got a 41 inch. So it seems like, the early mornings have been a pretty good bet for top water action. I'm sure somebody will listen to this and then go down there tomorrow and not see anything and be like, "Well, what the heck, Ryan?" But if you're not in the right spot at the right time, you know, you gotta think nothing's going on, but a mile down the canal, somebody just gets lucky and they hit that top water bait. A little bit more reliable, might be jigging the canal at night. And that's just always a great technique during the summer. And like we've talked about during the afternoons in previous podcasts, chunking bait can be a good bet. So I think the moral of the story Kevin is, there are big fish around right now, for sure. They're definitely settling into the area. I don't think it's a giant biomass like in previous years, but there are big fish around. So, the canal is one of those places, even when nothing's happening, if you haven't seen a fish break all day long, you're still casting your bait into 40, 50, 60 feet of water, anything can happen and there are big fish around. So definitely have confidence, if you head down there.

- [Kevin] Let's do a little brief surf casting report, Ryan. What are you hearing from the surf cast bait?

- [Ryan] Well, I personally, didn't hit the beach this past week. We'll get into what I did in just a moment. But I did notice in the forum, that David Hoganson and his son they've been catching schoolies from the beaches of Cape Cod Bay, which is pretty much what I'm hearing right now. School is from the beaches in Cape Cod Bay, but the interesting thing that happened to them the other night, was that they got a hickory shad. This was on Thursday in Cape Cod Bay. The shad took an all of surf candy teaser. So that's pretty cool to see. I've caught a few hickory shad from the beaches in Cape Cod Bay in my lifetime. But when I say a few, I really do mean like two or three. So it's always cool when you catch one of those and they always seem to hit like little small jigs, little teasers, or like a little curly tail. Aside from that I know down in Chatham, the beaches are still or not the outer Cape beaches, I don't know about them. Maybe Phil can let you know how those are fishing, but like Stage Harbor area, for example, I know there's still schoolies down there. Frank Mead got a nice 25, 26 inch bass fish in that area. Aside from stripers, I do know some people from My Fishing Cape Cod, along the South side beaches, who are hooking shards. So that's always an option too.

- [Kevin] Earlier this week, Ryan, you and I talked and you went out with a good buddy of ours, Captain Steve Leery of Wing Man Charters out of Barnstable Harbor. How was that trip?

- [Ryan] That was your typical Cape Cod Bay summer trip. You know, it really was, it was a good trip. We had a great crew and we started by high-speed trawling hoochies. Which are squid imitation lure on wire line. And when I say high speed, I mean, Captain Steve was really moving quick. We were going six, seven miles per hour. We had hoochies on wire. He also had some hoochies out on the outriggers, along the surface. We picked up some fish that way and then we switched over to jigging wire. Jigging red and black jigs. I think we used purple and black as well. And that produced schoolies. It also produced a nice 36 inch fish as well as one slot fish. So that was a cool trip and that's pretty much during the summer. You gotta be willing to use wire, especially on those really hot summer days, if you've gotta be fishing during the afternoon. Lead core line, tube and worm, is also a good bet for sure, but using wire really helps you get your baits down and sometimes that's the only way to catch them. So it was a good learning experience for me, cause I've never trolled hoochies before, the way that Captain Steve did. And I think everyone had a pretty good day. So that was a good trip.

- [Kevin] How about a Martha's vineyard update? Ryan, have you been hearing anything from over on the Island?

- [Ryan] I don't have a huge network over on the vineyard, but I did notice that Matt Nightingale who's a member, he posted in the forum that he had some good luck fishing around Wasque point. That was on July 24th, this past week. He was trawling Yo-Zuris at about four knots and he landed around 10 blue fish, a sea bass and even a fluke. So that's pretty cool. But aside from that, that's really all I've heard about the Vineyard. I'm sure there's probably some nice fish being caught in the summertime spots like Devil's Bridge, Squibnocket area, but I don't know for sure, Kevin. I don't have any firsthand experience.

- [Kevin] And last but not least, on my list for you this week Ryan, are the canyons we talked a very little bit about it with Phil, from the Goose Hummock last week, he might have some more intel this week. I'm definitely gonna hit him up, later in the podcast. Because I know he likes heading out there with Team Goose, but have you heard anything about the Canyons?

- [Ryan] Yes, I have. I got a message yesterday from Ted and Kurt, Saraceno and those are the guys that, I usually fish the canyons with and they've been members of the site for several years now. They went out to beach Canyon this past week and they got a big eye tuna. They got a bunch of yellowfin tunas and that was just on a day trip. So, I'm guessing they probably only trolled for like five to six hours. Then I went on the forum this morning and I noticed that Sean Ross, hooked a blue marlin at the beach this past week. He also got about a half dozen yellowfin and Williams Rhinos posted that he had an Epic trip out there at the beach with Jacamo Charters. So there's definitely some action happening out there at the Canyons. I know it's a long haul and it's out of reach for most of us, but it's just cool to know that, there is so much life, way out there in the Gulf stream.

- [Kevin] Well, Ryan, before I let you go. what's on the docket for this weekend and the early part of next week. Got anything planned, fishing wise.

- [Ryan] I don't really know what I'm going to do, which is kinda cool. Because I don't have too much on the calendar, than I need to do. So, I'm just gonna see what opportunities present themselves, whether it's taking the little 12 foot boat out fluke fishing, or maybe for stripers. I've even heard of there being some nice schools of pogies around. So I might try to check those out, see if there's some big bass below them, but I don't know, Kevin. Just trying to enjoy late July and this weather. Because before you know it, I hate to say it, but fall will be here. So I'm soaking up every summer day, for everything it's worth.

- [Kevin] Well, that's good advice, Ryan, for all the members out there. Thank you so much for sharing, some of your weekend with us and we look forward to catching up with you in the near future.

- [Ryan] I'll talk to you soon.

- [Kevin] Well, next up, on this week's edition of the My Fishing Cape Cod podcast, is our good buddy, Bruno Demir from Cape and Islands Mitsubishi. Bruno, how are you on this beautiful Saturday morning?

- [Bruno] I'm awesome. Hello MFCC members. For once, I'm not on the water. I'm actually in the mountains in New Hampshire, taking the family on a little weekend getaway. And just stacked in, like one of the Griswolds.

- Exactly. You're a true American family man, Bruno. But have you had a chance to get out and do any fishing at all this week?

- [Bruno] Yeah, I did and I got a lot of close friends, that also spent a lot of time on the water. So we've got some good intel for you guys.

- [Kevin] So let's dive right into it. A few members have asked us about fluke fishing and you've shared with us your passion for fluke fishing and you've talked a lot about the Nantucket shoals. Can you provide a little bit of a fishing report on the shoals and give us some pointers for folks that may want to take a stab at fluke fishing the shoals by boat?

- [Bruno] Well, it's certainly the fluke capital of the world. One little bit of advice, just make sure you put safety first, because you want to make sure you go out there on a really nice calm day. Because the shoals can get really dicey and it calls for a long ride home, if you pick the wrong weather. Been there, done that, but that being said, here's what I would do, if you want some fluke on the shoals. First things first, you wanna hit big round shoal. The very Southern point between the eight and 10 can. You get a drop off there, where it goes from 20 to 70 feet. You just want to work that column. On the incoming tide, you want to be up on the bank and 20, 25 feet on outgoing tide, you want to be in the deeper water. Now you might not get the biggest doormat step, but you'll definitely hit your limit on most days. If that doesn't work, you take the trip a little more South and you hit mixed layer. And then the mixed layer is... I think it's only like what five miles, four miles from big round shoals, Southern point. So that's your next stop. You can get big ones there. My son's personal best was right there, at 24 inches last year. And if that still doesn't work out for you, then go a little more South to Rose and Crown. And Rose and crown will most likely, bring out a little bit bigger fluke. And then if you got a big enough boat and you're on complete doll mats, double digit fluke, Davis shul, which is a little bit of a hike from a Monomoy, but if you've got the right boat and the right weather, you'll get your personal best there for sure. And then I see a lot of reports actually on the forums that a lot of guys that are going down to the shoals right now looking for fluke are pulling up big 20, 21 and sea bass too.

- [Kevin] Oh, okay.

- [Bruno] So they're mixed in together there. Get your gulp. Get your jigs and don't be afraid to put a big jig on the bottom with two teasers up top. Two teaser jigs up top. You can actually use three. I know, I don't know... Jimmy, the Greek actually... A great fisherman On Time Charter. He's a big advocate on, using three jigs on one set up. So that's your fluke report.

- [Kevin] And Bruno, as you were just hinting at for sea bass, there are still some around, out in the deeper water as you just suggested.

- [Bruno] Oh yeah, absolutely.

- [Kevin] Give us a quick little report, on what you've been hearing. Have any guys been pulling up any sea bass who'd been fluke fishing or

- [Bruno] Yeah.

- [Kevin] Are there still guys going out kind of targeting sea bass?

- [Bruno] Yeah, for those of you guys that are members of MFCC and get to dive into the forms, you'll see that, we're very helpful for each other. And guys are going down to big round shoal and they're blaring and they're pulling up just as much sea bass as they are pulling up fluke.

- [Kevin] Great.

- [Bruno] So they're there right now. So we'll see how long they stick around.

- [Kevin] Any reports Bruno this week, from the Monomoy area, the Rips at all?

- [Bruno] The Rips are filled with sub legal fish, 24 to 26 inches. You can work a little bit via the route, downwards and you might find the bigger fish there. It's all about the tide. I mean, Monomoy's one of those things, I went fishing there last week and in the morning it was all about the squid baits and they were hitting anything that looked like a squid. And on the second tide, when I turned around, it was all peanut bunker baits. So it's just one of those things where you just gotta get out and try it out. But in general, you're talking 24 to 26 inch fish out there.

- [Kevin] Alright, that's good info. Also Bruno on my list of things to kind of ask you about this week, are bluefish. Hearing anything about bluefish anywhere?

- [Bruno] Well, I know a lot of your tuna guys, wanna get on some blue fish to use for bait. And I could tell you the best spot to get your blue fish for tuna fishing is going to be point Wrinkle almost, not even at the Wrinkle, but almost in between Stage Harbor and point Wrinkle. that coastline right there. If you troll a decent diver, you should be able to get your two, three blue fish, before you head out East for a bluefin.

- [Kevin] And talking about bluefin Bruno, you mentioned last week, you made a bluefin trip and we talked about bluefin in Cape Cod Bay and up toward P-town. And Ryan has pinged me this morning and he's hearing reports of some big pogie schools, up off Ray's point and in the province town area.

- [Bruno] Yeah that's true.

- [Kevin] So have you heard anything about tuna or a striper bait out at a P town.

- [Bruno] Yeah, I did. If you're looking for keep a Stripe, that's kind of your best bet. You're gonna get some 26 and 27s, but you're also gonna... If you work it long enough, you're going to get your 28 to 30 inch fish there. They're all bunker and what's funny is, just about every week there's always a report at some point where the bluefin move in and they start crushing the same bunker that's stripers own off race point.

- [Kevin] Interesting.

- [Bruno] For what, it's hit or miss. They're not there to stay. They come in, they feed and they're outta there. So it's kind of one of those things, where you gotta be there in order to get them. But if you hear reports of it, it's for 30 minutes. So by the time you get up there, they're gone. Either you're there and it happens or, you gotta be there and hope that it happens, but don't try to chase it cause they're there and gone real quick. Also though, if you're looking for a bluefin, I gotta tell you the bank, there's a lot of talk of guys catching fish up at the bank. So that's kind of far ride, from race point once you're there.

- [Kevin] Last but not least Bruno. I wanted to check in on the dealership, Cape and Islands Mitsubishi. How are things going down at the dealership this week?

- [Bruno] They're going great. They're going absolute great. We just got a new inventory of pickup trucks, ranging from 23,000 all the way up to 45,000. I gotta tell you. Some of the pickup trucks we've got in lately, the prices have finally come down on the wholesale side. So we're able to price our trucks, so that you just can't find a better price anywhere. So we're having people come all the way from, Rhode Island, Boston, New Hampshire for our pickup trucks. And if you're in the market for a pickup truck before you go anywhere, look right in your backyard, right at exit eight.

- And as you mentioned last week, Bruno, you guys do a great job at customizing those pickup trucks as well.

- [Bruno] That's it man. Pick out your truck. Tell me how you want it done and we will totally customize it for you. Lift it, put some tires and wheels on it, get you ready to hit your trailer up to it and go fishing.

- [Kevin] All right, Bruno, I'll let you get back to your family, but Bruno Demir from Cape and Island's Mitsubishi down on station Ave and South Yarmouth. Thank you so much Bruno for sharing some of your time with us this week.

- [Bruno] You got it, man. Have a good one.

- [Kevin] Well, next up on this week's edition of the, My Fishing Cape Cod podcast. We want to welcome in our good friend, Phil Howarth, from down at the Goose Hummock shop in Orleans. Phil, how are you on this beautiful morning?

- [Phil] It's certainly a beautiful day, Kevin. It's absolutely glorious out there. Somewhat envious just watching one of our boats go out. One of our pontoon rentals, full of people going to the beach. It's kind of a beachy, kind of day. And honestly it'd be good for boat fishing as well.

- [Kevin] Yeah, it sure is. It's flat calm right now. I think a little bit after low tide here in Cape Cod Bay. And it's certainly a beautiful setting on a Saturday. I'm jealous with you, Phil. I'm looking out my window and I can see the ocean and I see a dog actually. A golden retriever swimming after a tennis ball and I'm pretty jealous of him.

- [Phil] Oh, yeah lucky him.

- [Kevin] Looking at the fishing report this week Phil, I wanna start off with life off Nauset and we touched on this a little bit last weekend and you felt with the bait situation out there, it might be setting up for a little bit of a rush. So I wanted to check in a little bit, to see if you had any more intel on stripers and blues from the outer Cape beaches.

- [Phil] Sure, but we're not really seeing any blue fish on the outs of beaches yet. They're still kind of down in Chatham.

- [Kevin] Okay.

- [Phil] I'll Come on to that later. We have been getting blue fish in the evening. Sorry, getting striped bass in the evenings off Nauset.

- [Kevin] Yup. It's been best efficient in the evening. If you can get on the dropping tide, that seems to be working the best and they're pushing the pogies up. There is still plenty of pogies out there and you can still walk on the mackerel also. They're everywhere. So, I suppose yeah, from a beach perspective, yeah. You go down there, get off the beach. Low tide or holding tide in the evenings, or like a little bit of dusk. You'll do just fine. On the boat scene off there, the guys have been doing really well, fishing on top of the pogie schools and that's all the way at Nauset, all the way up the back side, all the way to Trail road.

- [Kevin] Have they been pretty much getting the pogie spill with the snag hook and just kind of live lining them and letting them go?

- [Phil] Yeah, exactly. You have to a bit slightly, yes. Change your tactics slightly legally this year, because in northern bay its just to snag a pogie and let it drop. Whereas now if you're using a live bait you need to use an in line circle hook. So it's a case of snag the fish and then re hook it onto a different rod and rail with an inline circle and that is the best way of doing it. And you can always put some white, yellow A lot of people are doing is, they're putting a exiting current in front of it, just so that the pogie actually swims below the school, which is technically a similar technique as we used to do with the snag hook. That's proven to be very effective as well, yes.

- [Kevin] Perfect. And we wanted to touch on tuna as well, out East of Chatham and up at Stellwagen. It's been a pretty active tuna season here, early on Phil. What are you hearing about the tuna bait, East of Chatham and then over at Stellwagen.

- [Phil] Yeah, the tuna bait east is still on fire. Due East the Chatham, Crab Large, et cetera, the sword, they're still fishing incredibly well.

- They only challenge is, that the fish that coming out of there are all huge. So, yeah, there's a lot of big fish out there. But some interesting.... I got a couple of interesting stories for you. One of my customers had a really exciting, somewhat terrifying experience when he had... He said he was just getting to the final stages of a fish he estimated to be about eight to five inches and he was just getting ready to put a practical grip on it, to swim the fish to recover it, and a great white came up and took a third of the tuna in one bite. It didn't even shake... It didn't even shake it's head. It just went crunched straight through it. So yeah, obviously then he had a legal question. Obviously it was not legal. So, but yeah, he cuts his line pretty damn quick and let the shark enjoy it's dinner. Alright another cool story, which is coming to a slightly different is, one of my guys was fishing out there and he had a 54 inch halibut, huge halibut. And it hasn't been a surprise for us, but hell yeah, the fishing is still really to get out there. If you get up, when you get East of Stellwagen, obviously you get into the deeper water. Some of the state boats are reporting, seeing smaller fish

- [Kevin] Okay.

- [Phil] I traveled to see out there also my main store customers because that's what they want to be going for. So the wreckfish are there. There's rumors of them south of the islands. I've got one of my friends fishing there today actually. So hopefully I'll have more information on daily of them, South of Vineyard islands, for sure to come up because that was quite fun. So yeah, so East is mainly big fish. Get on the East side of Stellwagen and off into the deeper water. You'll have a chance of getting a recreational fish. Again, try trawling. Charlie has a habit of targeting the smaller fish for his bait. Fishing bait will catch small for sure, but even more chance of catching a big one. And a lot of recreational customers, you don't want anything to do with it.

- [Kevin] Speaking of a deeper water Phil, something that we don't talk a ton about here, is Cod fishing and one of the things Ryan wanted me to ask you about, is the Cod fish fishery. Is that fishery East of Chatham, a viable option for anglers these days.

- [Phil] It's a good question. I would say no, at a Cod level. And the reason that is the Cods have got worm parasites in them. So they just don't look very nice. They're full of worms.

- [Kevin] Yeah.

- [Phil] But they are out there, if you get out of the lines. That said, the haddock are not affected by it. It tastes equally gorgeous and they're in the same waters.

- [Kevin] Yes.

- [Phil] So if you get into that, so 180 through 250 for the water east of Chatham, out towards the shipping line and beyond. That space seems excellent, it had that crash in the last few weeks. It really has. And it's wonderful table fish and it's really easy fishing. You just drop a big perk down and a couple of teeters on it and you get undoubtedly on the bottom.

- [Kevin] Yeah, I can attest Phil as to how good a table fair the haddock are, for sure.

- [Phil] Yeah, it tastes great. And the top tip, if you do catch, you cannot release it and what you want to do, it's quite funny. You basically want to stick it in your live wall. Head down, holding style, head down. And basically all the air bubbles... Basically, excuse my English, but it's gonna actually fight its way back to health. And you just get all the air out of there. One of Brett Wilson, was a very talented charter captain, who taught me this trick, for bait for st George's, but you actually don't a get head first and hold them down and they'll actually be able to come out to them. And they have a much stronger probability of living when you actually throw them back because obviously they get... They take on air as they come up from those docks onto your boat. So that was a top tip of the day.

- [Kevin] Absolutely.

- [Phil] Kids will love it, I'm sure.

- [Kevin] Yeah, great tip. And a little bit closer to home, Phil. I Wanna talk a little bit about the Brewster flats. Have you heard anything about how they're fishing?

- [Phil] Yeah, the flats are still fishing well. The downside is with the flats is, the Bay gets very warm very quick, because its shallow

- [Kevin] Sure does, yeah.

- [Phil] I fished there on Tuesday. Yes, Tuesday morning, Sorry. It was a little unpleasant. On a flats boat with my son and my wife and we were on the flats. We were due to go out to Billingsgate, which I'll come onto in a sec, which is fishing great. It was a little bit lumpy our little flats boat. So we decided to come into the flats. There was about 30 anglers from the shore, mainly fly fishing and we just sat outside. Bam and we were catching two of those, one after the other. That was great form We spent our lovely little Thursday and we went back. I went fishing in two foot of water, but the biggest fish have certainly moved into a deeper water now from the flats. If you were really keen and trying to catch a bigger fish, I'd strongly recommend you go there in the evening or at night. And if you do fish the nighttime, just be very careful. Because it's hard when you normally fish the incoming tide and tide will come behind you and carry a compass all the time. It's just in case the fog comes on. So you don't get disorientated.

- [Kevin] Yep.

- [Phil] But that's certainly, if you want to fish, the flat side is definitely turning it. Earlier in the season, it was... You could fish in the days more than evening, night time experience now.

- [Kevin] And you mentioned Billingsgate a little bit there, Phil. I've been hearing some reports that, that area is really heating up.

- [Phil] Yeah, Billingsgate's been growing. The guys are trawling, whether you're trawling to mojo tube and worm bellow rigs, a lot of our guys are trawling. They should be your magic swimmers. We've just got such a lovely swimming action and a deep dive is directly a part of them. No, not divers, but they're picking the bigger fish off the edges of Billingstone, yes. and there has made some great surface spots, so they push the Sandies up. They're little tiny Sandies But when they push those up, you can get on top of them. You get in like an acre of breaking fish. I'm not sure that's still certainly happening, continuing to happen around the lakes for example.

- [Kevin] Yeah, that's what I wanted to get to. You and I touched on last week during our visit Phil, about the fish up on top at P town. Is that still continuing?

- [Phil] Yeah, it's still going on sporadically. Yes, you can find them and get on and look for the birds. And they look for the surface feeds. They get in up there when the sun does. Get in up there when the pogies is up. So you get in these really short, but really intense spots. And if you can get on that, you just descend in the middle of breaking fish everywhere. It's kind of like Nat Geo territories, fantastic front.

- [Kevin] And you hit on blue fish a little bit earlier in our visit. Whether it's folks going to look for a bluefish bait, potentially for tuna or people that are looking to recreational fish for blue fish. You hinted at Monamoy. That's an area that people could try?

- [Phil] Yeah, in Monamoy there's still a lot spread in the Rips and the blue fish are very active in the Rips right now. Great sporting fish, great tasting fish. Actually, I sure prepare them properly. Yeah, So Monomoy is a good shot. If you are more beach bound, Harding is a fishing well. It's a classic blue fish fishery. Entrance to bass river is doing great, also for the blue fish. And if you're on the base side along the old... Just West of the old state on the path, but coming off the ground and the other guys are catching them on umbrella rigs on Billingsgate. But it's more, if you're guaranteed, you want to catch them, I'd go to the Rips off Chatham.

- [Kevin] And the last thing, I wanted to ask you about Phil, just because I don't want to completely ignore it during our visits here on the podcast is I know The Goose also offers a wide variety of equipment for the freshwater fishermen. And we know that Cape Cod has all these great kettle ponds to offer the fresh water angler. Are you getting a lot of customers kind of coming in asking about freshwater at all, or is it predominantly saltwater stuff?

- [Phil] Good question. People get very dialed into the salt water this time of year on the Cape. They see a vast blow in tuna in the staples. It's easy to forget that we have 350, 400 tones on the Cape, with some wonderful fishing. Again with the warm temperatures it's turning into a early morning in the evening kind of thing, but my guys are all going out every day and if they can't get on the ocean, they're on the ponds.

- [Kevin] Yep.

- [Phil] Yeah, Eric and Ian whom I fly leads are doing really well on the fly in the evening.

- [Kevin] Great.

- [Phil] And the other guys are actually getting top water action for large mouth and small mouth, which is really exciting stuff. Now the tryouts obviously, that is a dodo right now, because they're in such deep water. But they will come back in September, October, but the large mouth from there and on a smaller ones... Not all of my customers wanna fish the beach all the time. So yeah, we're with our freshwater businesses, is very buoyant. I just placed huge orders to the full number of vendors, to try and keep on top of restocking people, as people look to go outside to not only enjoy outdoors, but actually enjoy it with a degree of social isolation. Which is the thing these days. Which kind of works for me. And I can't think of a better way to socially distance than be on our nice little water.

- [Kevin] Yeah, you hit the nail on the head. The best way to be socially distance is be out on the water, whether it's fresh or salt. Phil, I want to thank you so much for sharing your time and information with us this week. Again, the Goose Hummock shop down in new Orleans is your saltwater or freshwater headquarters. Go down and see Phil and his outstanding staff and they'll get you outfitted for whatever type of fishing you want to do. Phil, thank you so much for your time and we look forward to chatting with you later on.

- [Phil] Cheers Kevin, have a great week. Thank you.

- [Kevin] Well, my thanks to Phil Howarth of the Goose Hummock shop, down in Orleans for joining us on this week's edition of the My Fishing Cape Cod podcast. And a big thank you to all of our guests, that took time out of their busy Saturday to join us today, starting with, MFCC founder and creator, Ryan Collins. Cape and Islands, Mitsubishi's, Bruno Demir and last but not least, Phil Howarth from The Goose Hummock. And thank you more importantly, to all of you for taking time out of your week or weekend to listen to this episode of the, My Fishing Cape Cod podcast. We really appreciate it and all the great comments that you've been leaving on the website. I read them all. So keep them coming in and let's keep the interaction going throughout the summer. That's gonna put the wraps on episode number two of the podcast here this summer. So this is your host, Kevin Collins signing off, on this edition of the, My Fishing Cape Cod podcast, until we speak again, tight lines and take care.

- [Narrator] Thanks for tuning in to the My Fishing Cape Cod podcast. For the latest local news, information and fishing reports, be sure to log onto myfishingcapecod.com From all of us at my fishing Cape Cod, tight lines and take care.
What do you think?
Let me know by commenting below.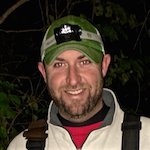 Kevin spent 9+ years with the New England Patriots and New England Revolution producing podcasts and other digital content. Currently he is the host and producer of the podcasts here on My Fishing Cape Cod. Kevin grew up on the beach in Plymouth, and he has salt water running through his veins.