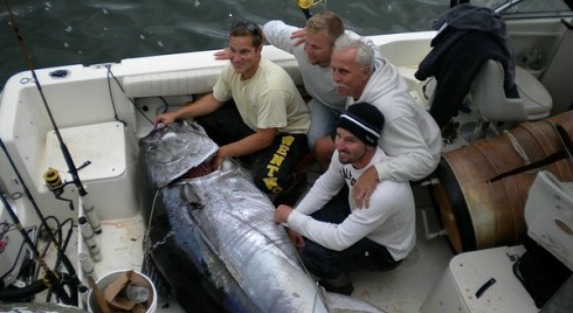 Cape Cod tuna fishing is unpredictable, nerve wrecking and extremely addictive. Off Cape Cod, your very next bite could be from a 1,000 pound giant bluefin tuna.
Cape Cod is home to a boasting recreational and commercial bluefin tuna fishery.  In one day off Cape Cod it is possible to see 50 pound footballs and 500 plus pound giants.
To capture the most powerful fish in the sea you will have to invest time, energy, money and in some cases personal relationships. To be a high liner, you will have to devote much of your life to tuna fishing.
The rest of us may need some help when it comes to successfully catching a tuna.
10 Steps to Catching Tuna off Cape Cod
If you'd like to learn how to catch bluefin tuna, then this tutorial can help. Afterward you'll get links to tutorials about finding fish and how to catch striped bass.
Free 38 Page eBook | Catching Tuna From A Small Boat
It is very feasible to catch a tuna from a small boat off the Cape. Every so often massive bluefins venture amazingly close to shore. All you have to do is be there when it happens!
Well there is actually a lot more too it than just that – LOL. Catching a big tuna from a small boat is a big feat. Over the years I have been fortunate to have seen, caught and lost tuna from 50 – 700 pounds from my 21 foot boat. In the below eBook I will share with you how it's all happened.
Click here or on the image below for your free copy!
About the Author: Ryan Collins is a passionate fishermen and founder of My Fishing Cape Cod.