Cape Cod Canal fishing can be frustrating at times.
One thing I am constantly hearing from people is that they get stuck on the bottom, lose their gear and don't catch a damn thing.  That was pretty much my experience for the first few years of my Cape Cod Canal fishing career.
In my early teens I had basically given up on the Canal because I was constantly getting stuck on the bottom.  Plus I could never reach bass breaking in the middle of the Canal, which was agonizingly frustrating.
I found myself regularly choosing to fish freshwater over making the 1.5 mile bike ride to the Canal from my house.  At age 13 I was turning into a sweet water fishermen, fishing tadpoles under a bobber for 2 pound largemouths.
My First Canal Keeper
This all changed one afternoon after school as I was fishing a small kettle pond with corn, targeting "behemoth" 6 inch sunfish.  Behind me I heard a familiar voice calling;
"Ryan, get over here!"
It was my father - what the heck did he want?  Couldn't he see that I was busy wrangling panfish?  I went back to watching bobber.
"There's a HUGE blitz happening down at the Canal.  Fish are everywhere, I just got spooled!" he said in excitement.  Of course at this moment I dropped my freshwater setup and sprinted to his truck.
We eagerly sped off towards the East entrance of the Cape Cod Canal, anticipation at an all time high.
Upon arrival I saw hordes of birds in every single direction.  For as far as I could see there were birds and bass.  The biomass of fish extended north out into Cape Cod Bay and south  past the Power Plant and around the bend by the fish pier.
It was pure mayhem as we situated ourselves on slippery, sea weed laden rocks.
I bombed a Kastmaster as far as I could out into whitewater.  Within a few cranks of the reel I was on.  I can remember how the adrenaline felt as the rod doubled over towards the surface of the Canal.  I had never caught a keeper striper from the Canal before- this was serious stuff.
Pulled Right Into the Canal
Just as I was settling into the fight the bass took off, with the west tide at its back.  I felt my sneakers slipping on the rock as I began to lose my balance.  The drag was frozen and all the tension was being passed along to my 13 year old string bean arms.
I felt myself falling forward as I viciously tried to regain my footing.  With one large surge the bass pulled me from my rock and I fell face first into the Canal.  My knee split open, I lay face first in a foot of water with one hand on the rod.
A small crowd began to develop around me as I brought myself back up on my feet, with blood now running down my left tibia. Somehow the drag began working again and I began applying pressure to the bass.  It was a decent fish, by far the largest I had ever hooked at the time.
The next 15 minutes was the most agonizingly exciting 15 minutes of my young Cape Cod Canal fishing career.  I cannot express in words how badly I wanted to just land the fish and get the fight over with.
Bring Him in Kid!
A half dozen onlookers encouraged me on, "Bring him in kid!" they said from above the rip-rap.
With my arms now burning I had the bass close enough to get a look.  Its dorsal fin streaked across the surface of the Canal, a mere 20 feet from shore.
The battle was nearing its end and I prayed that the hook would hold, and refused to allow myself to think of anything but landing this fish successfully.  I had to get this bass to shore or I would forever be tormented by "losing the big one."  At least this is what I remember thinking at the time.
Finally I slid the bass in close enough to pounce on him - literally pounce on top of him.  Soaking wet in a foot of water I lay on top of the poor lineside, my smile extending from ear to ear.
I had done it - rather we had done it, because without my Dad I never would have known about the epic bite.
The onlookers applauded as I hoisted the fish into the air - the most gorgeous and enormous 36 inch striped bass I had ever seen.
Cape Cod Canal Fishing | How to not get stuck on the bottom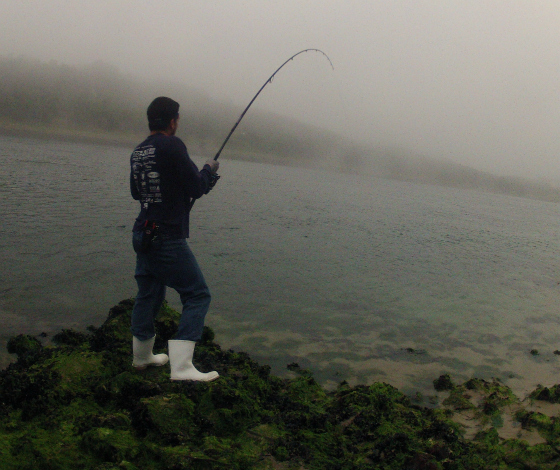 A lot has happened since that day.  Occasionally I still get pulled into the Big Ditch and end up soaking wet.  If I happen to be down on the Canal on a morning with plenty of tourists, a small crowd of onlookers will still gather and watch if I happen to have a decent fish on the line.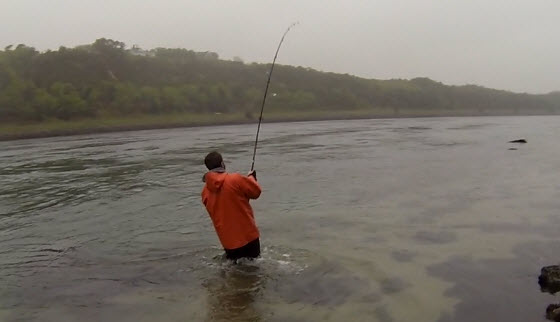 Yet the excitement will never match that level again - boy was that a special day.
Most folks give up on fishing the Cape Cod Canal because it's just too damn tough.  As mentioned above I was almost at that point myself.
Obviously I am very happy I did not give up.  If you are frustrated, then read on because there are certain adjustments you can make now, that will instantly make your Cape Cod Canal fishing experience a lot more enjoyable and a lot less frustrating.
Here is how I recommend fishing the Canal...[Join MFCC to access the full article]