This post was originally published during the 2013 season.
Lately I've been talking with many people who fish the Cape Cod Canal. Some are beginners while others have decades of Canal fishing experience.
Throughout these conversations I've noticed several little things that are yielding big results for beginners and experienced folks alike. I wanted to share those little things that are working for these people (and me too!) with you today.
Let's dive right in…
1.  Drift Bait Instead Of Holding Bottom

Last summer I took a mid-afternoon walk down at the Canal. There on the rip-rap was a group of guys all trying to fish seaworms on the bottom using a heavy weight. Almost instantly they all got snagged and stuck on the bottom. Swear words and frustrated faces ensued.
Without a doubt the easiest way to get snagged on the bottom of the Canal is to cast out a heavy weight and bait, and try to fish that bait stationery on the bottom. This technique works fine on a sandy beach or from a boat, but at the Canal the swift current will quickly bury your bait into the rocks-resulting in a snag.
A better way to fish bait at the Canal is to allow the bait to drift with the current. Sometimes you do not even need any weight. If you do want to fish lower in the water column, try adding a rubber core sinker. Start with a quarter of an ounce and incrementally increase the weight until you find the sweet spot.
You still can fish a stationery bait on the bottom at the Canal, just be sure to try this technique during slack tide. Slack tide is the short window of little current in between tide changes. At this time the current is not very strong, so you will have a much easier time holding bottom.
Click here to learn how to understand Cape Cod Canal tides.
2.  Don't Get "High Strung" When Landing A Fish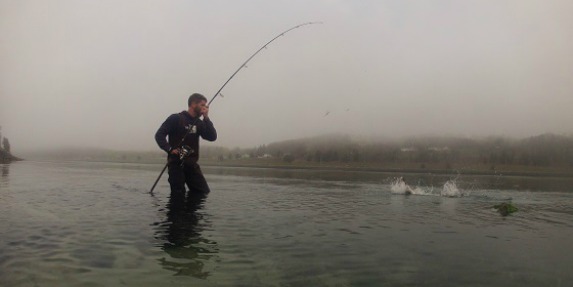 Back when I was 14 years old I hooked up with a 30 inch bass while fishing the beach. I was excited as it was the first hook up of the day for me. In my haste I landed the fish with my rod tip pointing straight up to the clouds, at a 90 degree angle to the beach.
A second later and the bass began thrashing in the water. Due to the angle at which I was holding my rod, the rod tip was violently jerked downward, instantly snapping it off.
I learned an important lesson that day on the beach-always keep your rod low when landing a fish. This is especially true at the Canal.
When you attempt to land a nice bass from the Big Ditch, be sure to not hold your rod pointing high to the heavens. The physics involved will snap your rod tip, if the bass at your boots decides to make one last ditch dive to the bottom of the Canal.
This is called getting "high strung" and it is the #1 most common cause of broken rods at the Cape Cod Canal.
3.  Understand How To Fish In A Crowd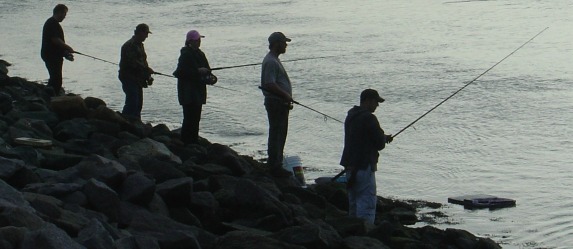 I like to give other anglers as much room as possible. However, sometimes it is just too busy at the Canal and you have no choice but to snuggle in next to someone…or someone else snuggles in next to you.
When fishing in a crowd it is important to not use a different technique than everyone else. For example, if everyone next to you is topwater plugging, then you shouldn't be jigging or fishing bait. Doing so would only cause tangles and other issues for those around you.
Always allow the down-current angler to cast first. The down-current angler will cast their lure up-current, and the lure will probably plop down somewhere directly in front of you. Wait for their lure to pass by and then cast your offering up-current. Keep the rotation going in this fashion and don't cast out of turn because that could cause a tangle.
If you do hook up with a big fish that is screaming line, let the guys down-current of you know what's going on. Don't scream at them like a wild man but instead just give them a friendly heads up. Then calmly walk down the rip-rap until you are past them. This way you will be out of their way and the anglers can continue fishing.
Reel in your line when someone near to you hooks up with a fish. Definitely do not cast over someone's line when they are fighting a good one. I understand that in the heat of the moment this might be hard to do, but there is no excuse for fouling someone else's line when they have a fish on.
Click here to download a free report on "Must Know Cape Cod Canal Etiquette"
 4.  Check Your Rod Guides & Bail

One day in my early twenties I headed down to the Canal with a brand new spinning reel. There were a few fish breaking in the middle of the Canal so I decided to really lay into a cast and try to reach the surface activity some 200 plus feet away.
Then I heard what sounded link a gunshot, and watched as my expensive pencil popper sailed 3/4 of the way across the Big Ditch. The bail of my reel had flipped over mid-cast, which when using braided line, always results in the plug snapping off.
Since then I have learned to only use a spinning reel that has a bail locking mechanism. This prevents the bail from flipping over mid-cast, which can happen quite often. I once lost 3 plugs in 7 casts due to this issue!
You also want to check your rod guides every once in a while, especially if you use a swivel to connect your main line to your leader. If you happen to real the swivel into the rod guides, or if you drop your rod onto the rocks, small fractures can develop on your rod guides.
Eventually the braid will get caught in one of these cracks, fraying the braid and diminishing its strength. If the braid does not snap immediately, it may snap the next time the line is put under pressure (like when you hook up with a really nice fish).
If your eyes have trouble seeing such small cracks and fractures, consider pushing a cotton ball through the rod guides and observing if any of the cotton catches on any nicks, cracks or dents.
5.  Know When To Call It Quits

During the 2013 season there was one weekend at the Canal when the bass came through in droves. It was an all-out blitz, and it happened to occur on one of the busiest tourism days of the entire summer.
The Canal was packed shoulder to shoulder with fishermen. As the bass moved through the Canal from west to east just about everyone and their grandma started hooking up. It was an epic day of fishing.
Yet from the perspective of the fish, the decision to feed heavily on a day when the Canal was packed with anglers proved to be catastrophic. Hundreds of bass were killed for food or released injured.
Throughout my fishing career I have killed many bass for food, and injured countless more by practicing catch and release. Last year I decided to start "calling it quits" a lot more often, after catching just one or two nice fish on a trip. I placed more emphasis on being content with catching a couple fish, instead of trying to catch as many stripers as possible.
The result was less injured striped bass, and a more relaxed, calm and content Ryan Collins. It felt good to fish, and it also felt good not to fish, and simply play witness to the feeding frenzy around me.
What do you think? Let me know by commenting below.
Tight lines! 🎣