Note from Ryan: This post was originally published in August of 2014. I figured now would be a good time to re-publish this post, because each week I receive messages from parents who want to take their kids fishing.
One way my Dad got me hooked on fishing was by taking me to the Cape Cod Canal on Sunday evenings when I was between the ages of 6 and 10 years old.
No we did not jig or plug for big stripers, but we did catch a ton of small bottom fish that kept me occupied and very engaged, despite my young age.
In this post I want to share with you 8 steps for fishing the Canal with young children. However be careful because you just may get the young kids in your life hopelessly addicted to fishing – which is exactly what happened to me!
1)  Rig Up With Light Tackle

Recently I went fishing with Kyle, an up and coming fisherman who is 9 years old. The first thing I did with Kyle was rig him up with a light tackle spinning setup that would be perfect for catching schoolie stripers and other small Canal-dwelling fish.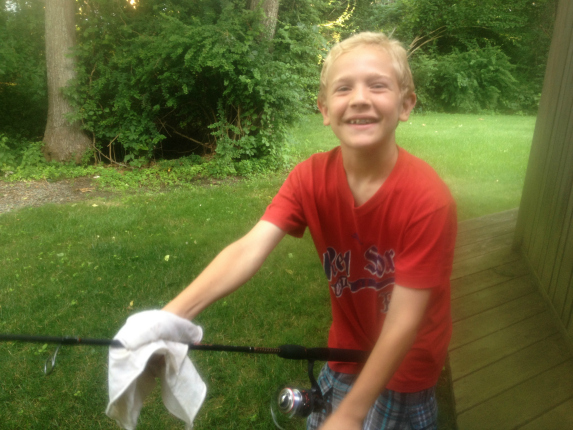 You don't need anything fancy, just a 6 or 7 foot long light spinning rod and reel spooled with 10 pound test monofilament line.
Big thanks to all the MFCC members who participated in this past spring's My Fishing Cape Cod breakfast raffle. The money we raised through the raffle helped to pay for Kyle's spinning setup – nice work!
2)  Tie On A Sabiki Rig

Once you have a light rod and reel ready to go, the next step is to tie on a sabiki rig.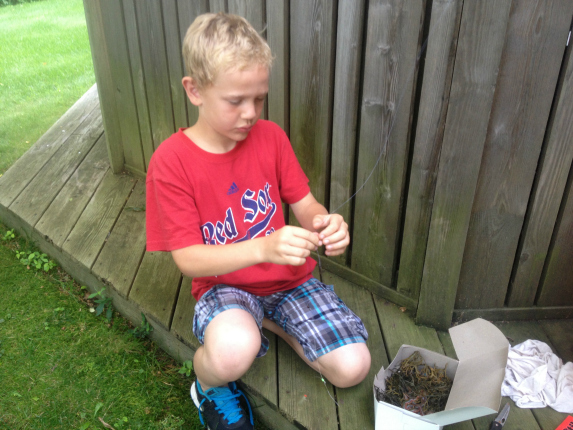 Sabiki rigs have many small hooks so just be careful. Using sabiki's is probably the most efficient way to catch the small fish that inhabit the Canal's rocky bottom.
Add a weight to the bottom of the sabiki rig. Depending on the current anywhere from 1-4 ounces will work.
3)  Bait Up With Pieces Of Mackerel

Small pieces of the belly section of mackerel work very well when added to each hook on the sabiki rig. We will be targeting small fish like the cunners, perch and other "bait stealers" that drive most fishermen crazy but are super fun for young kids to catch.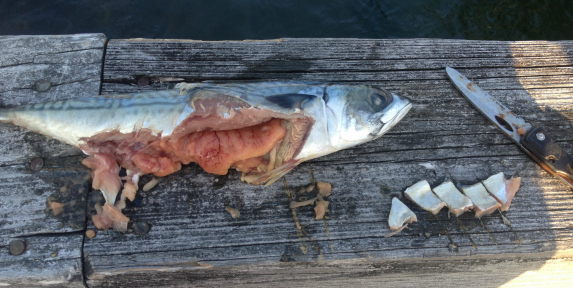 I recommend the belly section because it stays on the hook better than other parts of the mackerel. Just a small little piece on each hook is all you need.
4)  Go To The Scusset Fish Pier Or The Sandwich Bulkhead

There's a really nice fish pier at Scusset Beach State Park that is perfect for this type of fishing. Another place to try is the bulkhead area at the Sandwich Marina.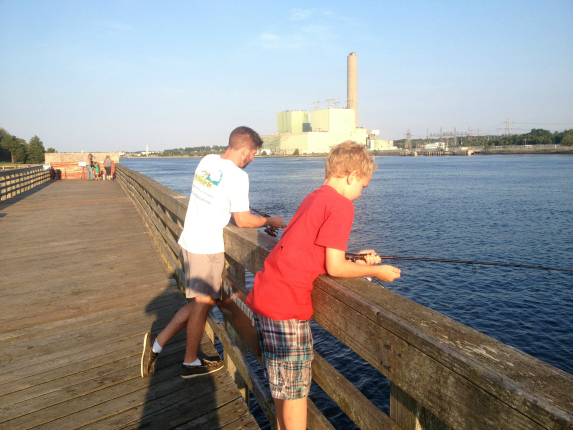 In these spots you can just drop a line straight down and catch a fish. There's no need to cast which is good because casting is often the most difficult thing for a young or novice fisherman to do.
5)  Time Your Trip So You Are Fishing During Slack Tide

The Canal's current can be very strong so you want to time your trip so you are fishing during slack tide. Slack tide is when the current will be the weakest.
I would recommend fishing 1/2 hour before until 1/2 hour after slack tide.
You can see what time slack tide occurs by viewing this Cape Cod Canal Current Table. My favorite time to fish this way is during the low slack, when the tide is beginning to flood.
6)  This Is The Perfect Opportunity To Teach The Basics Of Fishing (and have the kids do all the dirty work)

This is simple fishing. All there is to do is cut small pieces of bait, thread them onto each sabiki hook, drop the rig to the bottom, wait for a bite and then set the hook.
I feel this is a great opportunity to show the basics of fishing to the young fisher and by the end of the trip, have them doing all the dirty work like baiting hooks and unhooking fish.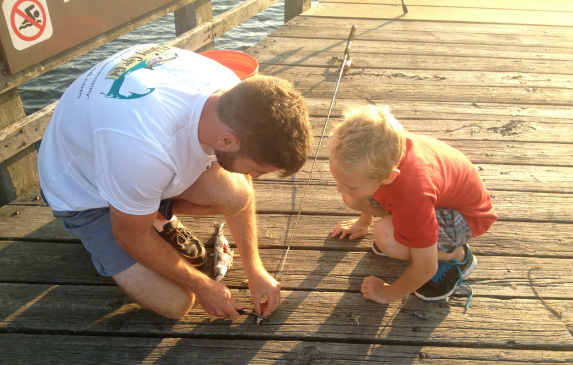 You will be getting lots of bites and will need to re-bait quite often so take it from me you will want the kid doing most of the work.
My Dad did this for me and now when we go striper fishing on my boat he sleeps in the cabin the entire time and I wake him up when we start hitting fish.
Not a bad deal for my Dad if you asked me!
7)  Start Catching

The most common fish you'll catch using these methods is a common perch. These fish are also called cunners of bait stealers.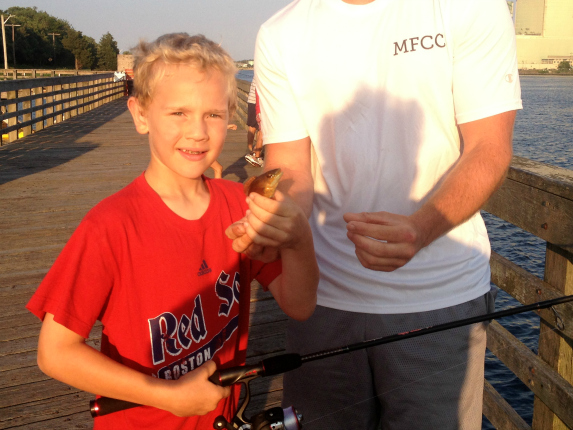 Perch may be small but they are plentiful. You will most likely start getting bites as soon as the bait hits bottom.
They are small fish but are surprisingly strong. They put up a great little fight on light tackle!
The cool thing about fishing the Canal this way is that you never know what you may catch. Growing up I caught mackerel, pollock, sea herring and flounder.
When I went fishing with Kyle, he even caught a nice sea bass!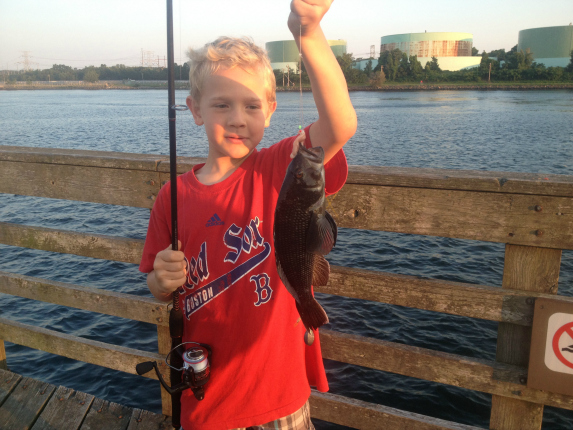 A sea bass like the one above is a real trophy for this type of fishing.
8)  Eat The Fish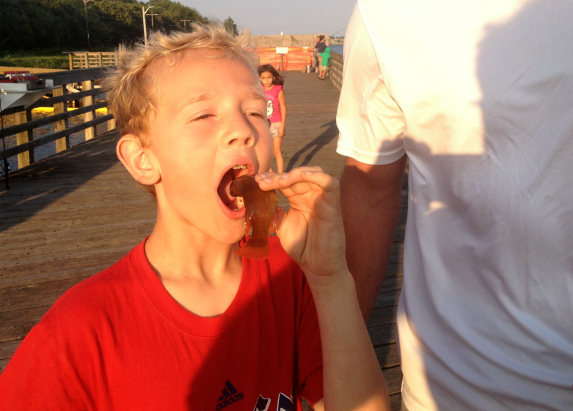 Just kidding!
Definitely do not eat the fish.
In Conclusion

Fishing the Canal in this fashion is simple and easy. The action is fast and furious which is important for the short attention spans of young children.
I got hooked on this type of fishing when I was  young. I feel that Kyle may be hooked as well. If you have a youngster in your family and you want to get him or her outside and away from the iPad, then I highly recommend giving this a shot.
What do you think? Let me know by commenting below.
Tight lines and take care,
Ryan