Cold, wet, windy and rainy best described the conditions as I stepped foot onto the beach. I knew the odds of catching my first striper of the season on such a cold and raw day were slim, but I could not help but at least give it a try.
I had already caught stripers by this time last season. I feel that the cold water temperatures we are experiencing right now are the main culprit preventing me from putting a bend in the rod.
Yet if there are any bass in Nantucket Sound, then this particular spot would be the place to find them.
NW Wind + Rain = Beach All To Myself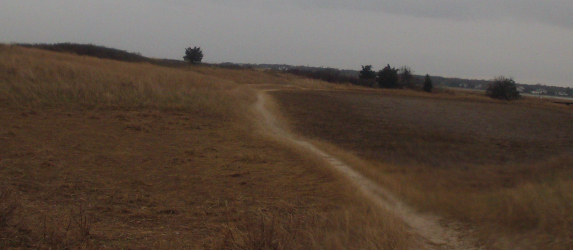 I often encounter other people when fishing this particular stretch of sand. The area is a favorite for dog walkers.
Yet the bitter cold, wind and rain kept everyone else at home. I was the only knucklehead out in the weather and I enjoyed the peace and quiet.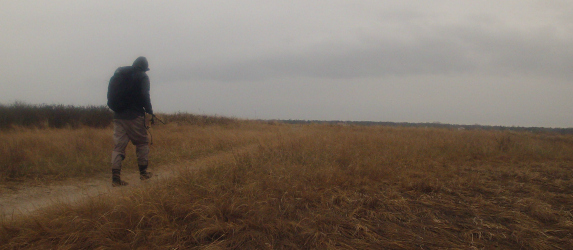 As I have mentioned in many of these recent Cape Cod fishing reports, I like to look for that first schoolie of the season in estuaries and marshes. Fortunately I had one of the fishiest of all Cape estuaries right in front of me.
The Bass Are Close (Real Close), Despite The Cold Temps
Despite my waders I could still feel the cold nip of the April ocean on my legs.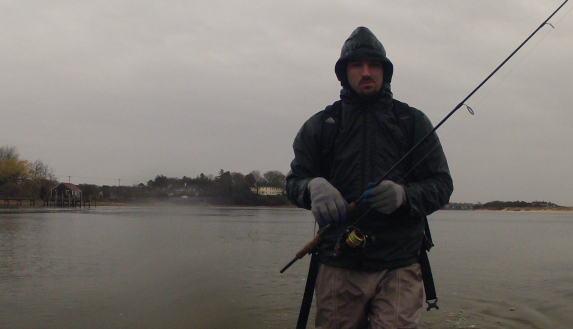 I don't look too enthused in the above photo, but I assure you I was having a good time!
I knew that any day now I would start to find schoolie stripers here. A week or so later, larger stripers would return to this estuary.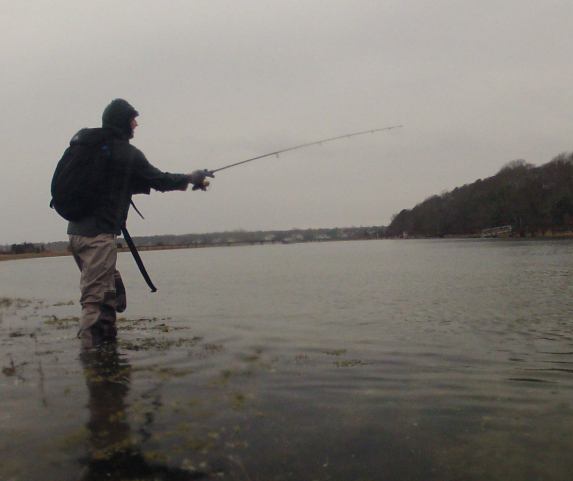 On top of that I knew there were at least a few holdover stripers in the system, which had spent the entire winter in this marsh.
Was it still too early in the young 2014 season for me to find action here? Regardless I had a hopeful and optimistic feeling as I made my first cast of the trip.