If you know me at all, I'm not much of a fish person. I squirm at the thought of touching a worm and really only would like to see a fish seasoned and grilled with a nice lemon wedge to garnish.
This other side of fishing, I will admit, threw me for a loop. The first time I went fishing with Ryan and wrestled in a 25-pound fish, I'm pretty sure that was my "in" in this relationship.
Not to mention when I posted the picture of me holding the fish, most of my friends (and parents) were convinced this was some sort of photoshop prank. I remember refusing to touch the bait and of course my only job was to sit and look pretty until it was time to reel something in. Regardless, it was fun and a great way to spend some extra time with Ryan.
I had known Ryan was in to fishing when I first met him, but it was a shock to the system as I learned the ins and outs of dating someone who loves to fish.
Here's what I've learned so far..
1. You get to take nice pictures.
If you spend a lot of time with a fisherman, chances are you'll get to see some beautiful sunsets (or sunrises if you're a morning person), maybe a whale or some animal out there, a colorful fish or some nice sea glass or shells you find wandering the beach.
The picture above was taken one evening at the lake near our house when we just wanted to get out for a bit. The evening turned out to be absolutely gorgeous and thankfully I had my camera.
Tip: Invest in a camera. While he's fishing you can occupy your time by snapping photos. It's way better than just sitting there waiting for a fish.
2. Getting hung up on.
The first time I talked to Ryan on the phone, I was mid-sentence before I realized there was no one on the other end of the line. I was horrified!
Typical thoughts ran through my head...I was convinced I bored him to tears and he finally just hung up. But not to worry, it's only because there was a fish on and he needed to get that darn fish set on the hook immediately if not sooner. Lesson learned.
3. The Bait Situation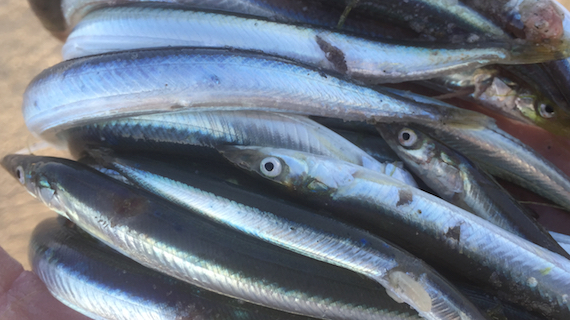 What is worse than opening your fridge in the morning to find hundreds of little eyes staring back at you? Nothing.
I find bait in my fridge more times than I would ever prefer and I must remind myself to not be horrified when one crawls out of the box and into the actual fridge. More times than I'd like to count, I have transported buckets of eels and boxes of worms in my nice car too.
Once Ryan found an old shriveled up eel that died a terrible death under the front seat of his car. It was probably there for a few months before he found it...which is horrifying. Lesson learned? I check the seats and my fridge frequently for strays.
4. There's Always an Opportunity to Fish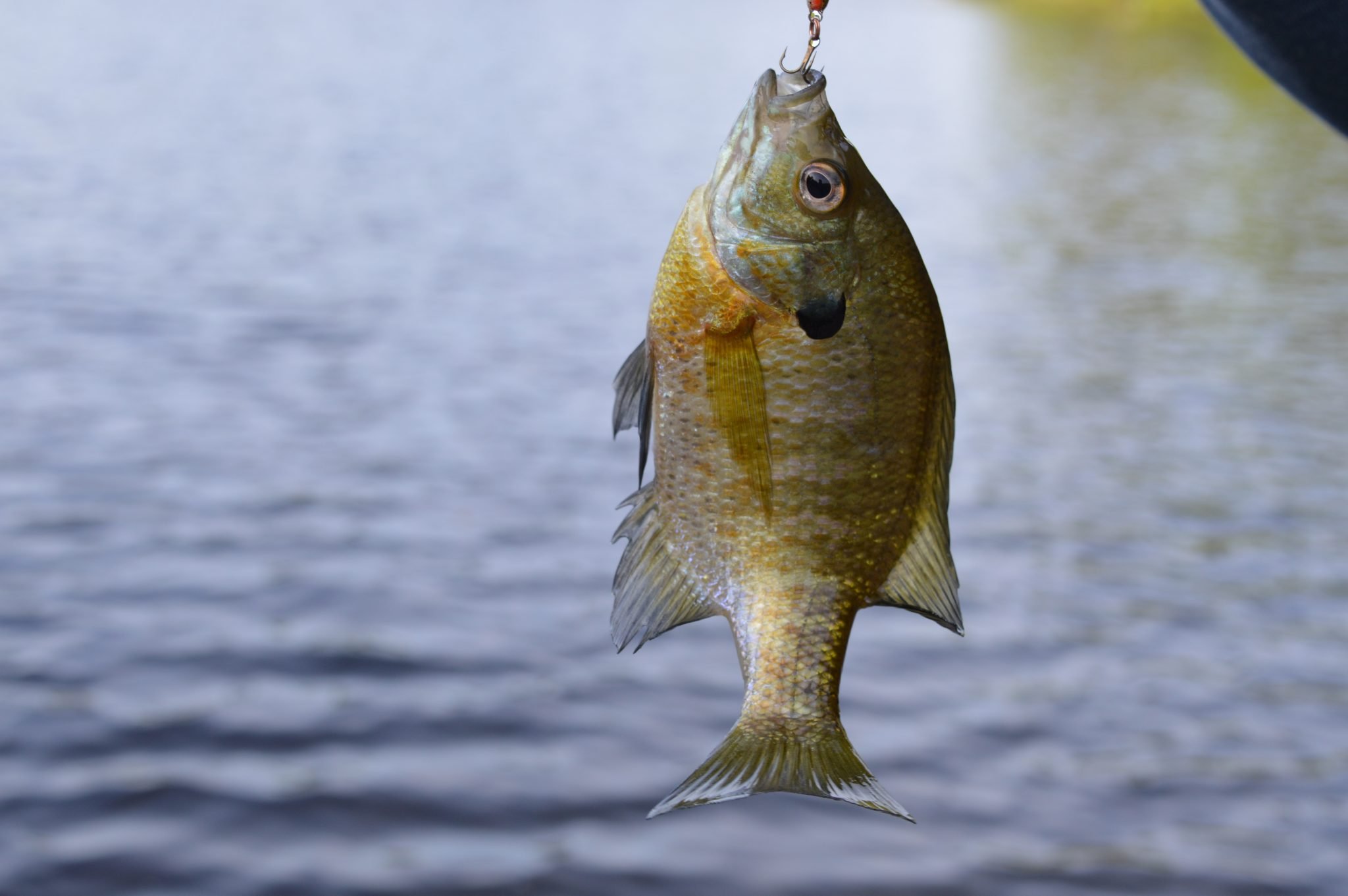 No matter if you're hiking up a mountain far away from the sea or not, that fishing pole is going with us. There is always a very small chance that we will stumble upon some small pond or stream that might possibly have fish in it...and we are going to find out.
Want to go on a romantic kayaking adventure with a fisherman? You'll have to share his attention with the fishing pole too.
5. Fishing Season
I understand now that planning any big event between the months of April through early November is pretty much off-limits.
That is fishing season and whether it's for stripers, tuna or nothing at all, it's fishing season.
6. That Fish Smell
4am is not an acceptable hour to be awake for most anything - unless you're going fishing.
For those of you who are new to this: you will probably wake up some mornings to find yourself alone. Just shrug it off and go back to sleep, because when he returns, he will wake you up with the sweet smell of fish guts (and probably an iced coffee).
7. Photography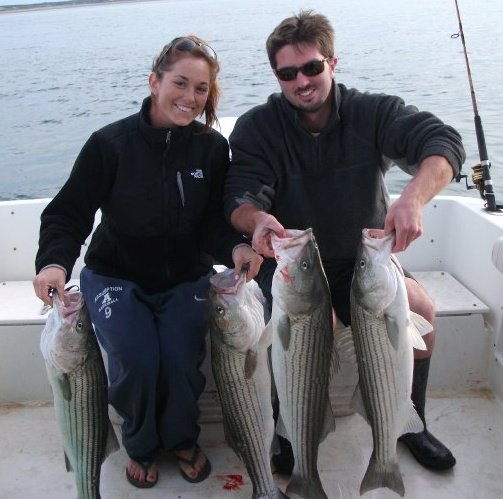 Another thing I have learned? Fisherman have photos of themselves holding fish all over the house. Ryan even has a picture of just a striped bass - not even a person in the picture with him - framed, next to his bed. I was baffled.
I have figured out that by dating a fisherman, your relationship will go like this:
When a picture of you holding a fish makes it into a frame and placed somewhere visually appealing, you're in.
When a picture of you not holding a fish at all makes it into a frame and placed somewhere visually appealing...START PLANNING YOUR JANUARY WEDDING. (Side note, we are not getting married in January).
8. When the Conversation Quickly Turns to Fishing
When out with other fishing couples, I have learned to get all the words I want in within the first 10 minutes, because after that, all hell breaks loose on the fish-talk front.
I have learned how to discuss the tides, the size of the fish, location of fish, bait used, where the wind is blowing in from, the drama that happened at the docks that morning...I could go on forever. I just smile and nod and pretend to know what they're talking about.
9. Appearance
In winter, his hands will be soft and smooth and well-hydrated. By July, those babies will be battered and beaten to an inch of their life.
When you stick your hand down enough fish throats in a season, I would imagine your hands need to start toughening up...such is life as a fisherman.
10. The Weather Channel
I have become the weather lady.
I now know the difference between a north-east versus a southwest wind and I could explain to you which one is better than the other. When checking the weather for my own personal knowledge, I am immediately hounded with what the wind is like in some far off place.
11. Shopping & Presents
These guys are so easy to shop for!
Rods, reels, goretex...even a bunch of fishing line will make them swoon! Also going to Bass Pro Shops is quite fun - aquarium and shopping all at once? I'll take it.
12. He Will Feed You
During the height of the season, we consume a lot of fish, and that's never a bad thing.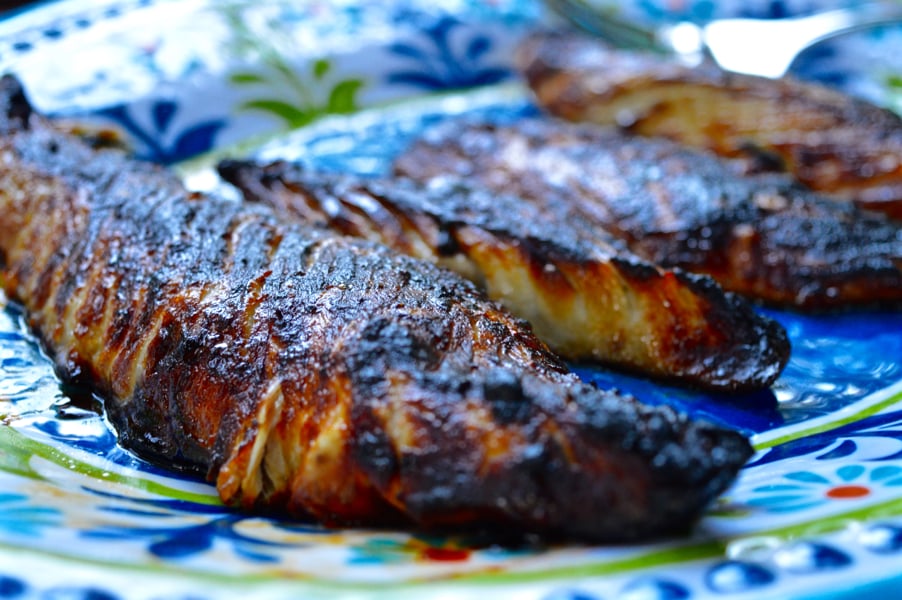 The fresh caramelized bluefish we had last week was terrific!
Plus with prices so ridiculous per pound at the grocery store, you'd be thrilled too if your fisherman is bringing you high quality, freshly caught fish...for free!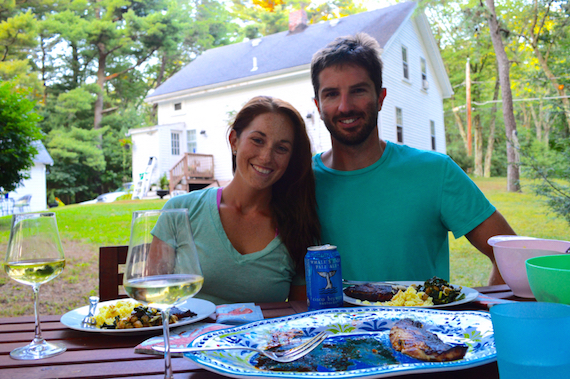 13. Popping a Hook, Getting Tangled...Basically Ruining Something
If you're new to the fishing thing and he takes you out, hope that he is a patient man.
I have done it all. Just don't get embarrassed if you're like me and you try to cast a line as far as you can only for the bait to land 5 feet in front of you with a ton of loose line dangling in the wind.
14. You can hang signs on your door like this one: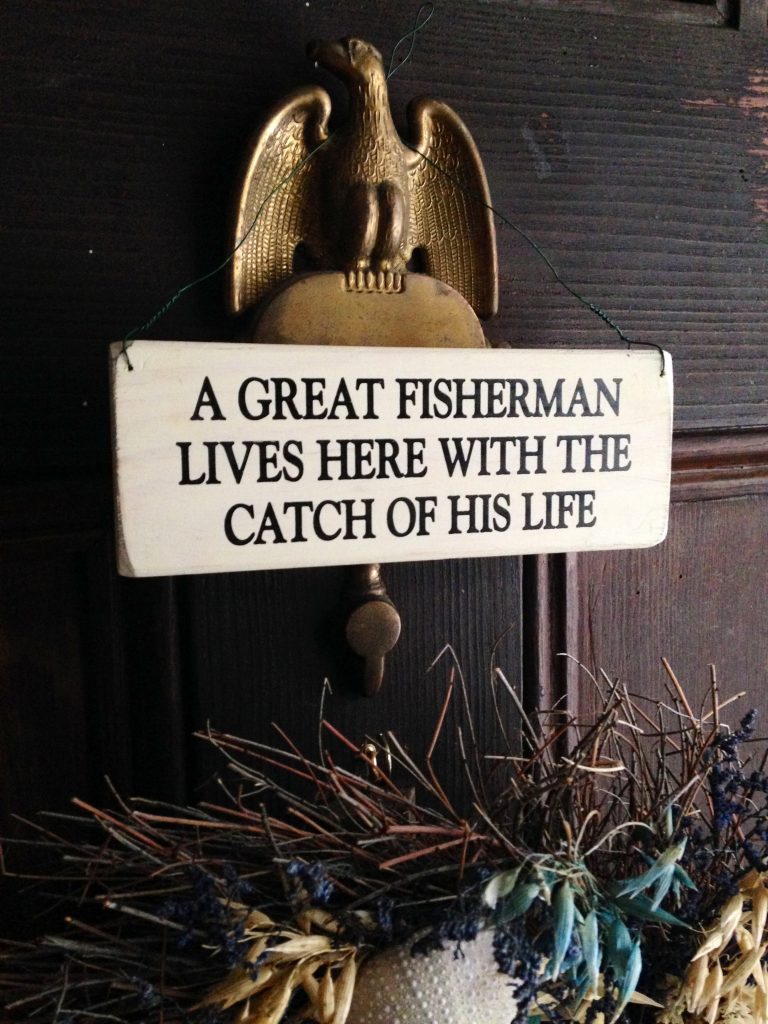 Best gift ever!
So all in all, not so bad, I just wish someone warned me first 😉