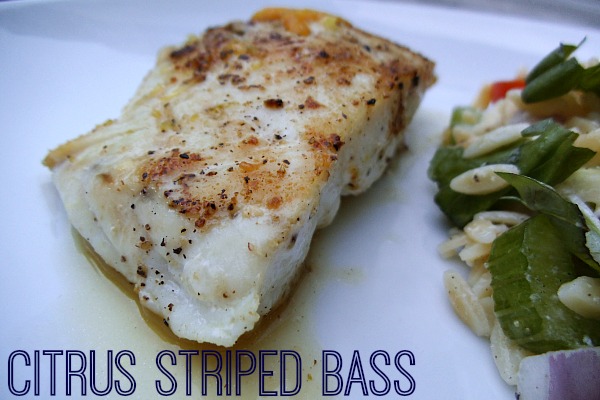 A fresh new take on fish - tangy, sweet and just perfect for this fish that was caught  just the day before.
Today was the perfect start to summer - 80's, blue skies and a few hours at the beach were all I needed for inspiration to come up with this recipe.
Luckily whenever Ryan catches something he brings it home for me to cook up!  This particular fish was just caught the day before which is really the only way to go.
Orange, lemon and lime with a hint of butter were drizzled over this lightly seasoned white fish, served with a side of Greek Orzo Salad.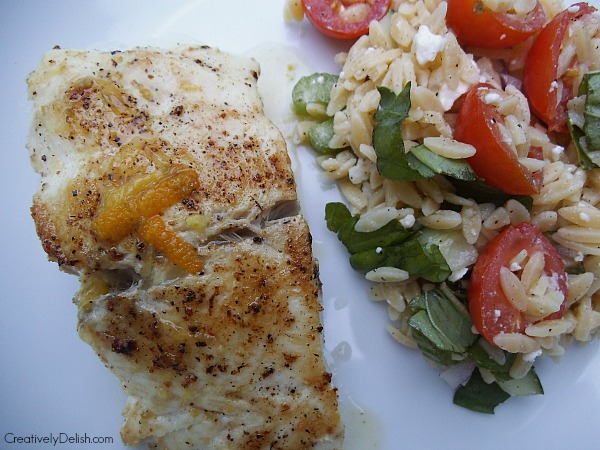 The citrus sauce is made up of zest from each fruit along with the juice and a few of the "bulbs" from the inside of them as well.
What are "bulbs" you ask?  I'm talking about those little membranes inside the fruit that are just bursting with more flavor.  It added great texture and an extra boost of citrus.
The butter helped to thicken it a little bit and to tone down the bitterness of the fruits' juice, so be sure to add the butter!
The fish was simply seasoned with salt and pepper then cooked quickly in a pan, finished with just a light drizzle of citrus sauce.
Heavenly!
Citrus Striped Bass
Prep time:
Cook time:
Total time:
Ingredients
Zest and juice of 1 navel orange
Zest and juice of 1 lemon
Zest and juice of 2 limes
1 TBS butter
1 LB striped bass or other flakey white fish
salt and pepper
Instructions
In a small saucepan, heat the juices, zest and butter until blended together.
In a large heated pan or grill, sear both sides of the fish then cover to cook the inside of the fish (about 8 minutes if it is a thick piece)
Serve the fish with just a little sauce drizzled over each piece
What do you think? Let me know by commenting below!
Through the eyes of a fishermans' wife, I'm excited to share my cooking and photography with you here on MFCC. You can learn more about cooking, and get more recipes by visiting my website Creatively Delish.