In today's show we get a full update and fishing report for the waters of Nantucket Sound.
If you're interested in fishing Nantucket Sound for bass, bluefish, fluke and more, then this will be a good listen for you.
Please click play below to listen
More...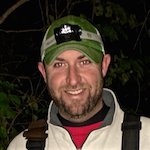 Kevin spent 9+ years with the New England Patriots and New England Revolution producing podcasts and other digital content. Currently he is the host and producer of the podcasts here on My Fishing Cape Cod. Kevin grew up on the beach in Plymouth, and he has salt water running through his veins.