Fishing on Cape Cod during the month of May is my favorite time of the season for targeting striped bass in close to shore. For whatever reason, bass seem to hug the shoreline more so during May than any other month - at least in the Cape Cod fishing spots I tend to gravitate to. May is a great time to slap on a pair of waders and stalk stripers in skinny water, often in depths of less than 3 feet.
Because bass are in so tight to shore, the fishing can be pretty exciting. I still get an adrenaline rush when I see a nice fish swimming by a boulder just a few feet in front of me. I get a big adrenaline rush when I watch an entire school of stripers cruising through crystal clear water on top of a sandbar.
It is easy for me to enjoy this type of fishing, because I still spend the majority of my Cape Cod fishing time in deep water. Cape Cod Bay fishing in particular revolves around working depths that are often greater than 50 feet. In other words, I relish these skinny water moments because I understand that once the month of May passes by, my odds of finding and catching striped bass in shallow water diminish significantly.
Finding Skinny Water Stripers in May Fishing on Cape Cod
During May I focus my surf fishing efforts in Buzzards Bay, Vineyard Sound and Nantucket Sound. Some of these areas will dry up once the water warms, so I figure I might as well fish these areas while I can. On top of that, since bass are migrating up from the south, these areas will play host to larger striped bass before Cape Cod fishing spots like Cape Cod Bay and sections of Outer Cape Cod.
Some of my favorite spring-time skinny water areas can be found here (just scroll down a bit) and here.
These spots usually see an influx of striped bass during the first week of May. Keeper size striped bass should be around by the end of the first week of May, and will remain in the general area throughout the rest of the month. Sometimes an area of shoreline will fish extremely well for a stretch of a few days. I believe this is probably because a significant size school of striped bass has settled into the immediate area. Then when the fish decide to continue their migration north, the same stretch of shoreline goes mysteriously quiet - until the next batch of bass moves in.
To increase my odds of success I like to look for areas that have significant structure. Many times I will look for boulders, sandbars and access to deep water. It is rather difficult to locate a Cape Cod fishing spot that contains all 3, but they do exist if you look close enough.
The below image is of a pretty productive-looking area that I may try this coming season.
The red arrow is pointing to what looks like a boulder field extending out into the ocean. Depths on the boulder field are shallower than the blue water surrounding it. This looks to me like a great place to wade around and cast top water plugs and/or soft plastics.
How Tide Affects Skinny Water Cape Cod Surf Fishing
I believe tide is much more important of a factor when fishing skinny water, than when fishing deep water out in a boat. Because we are targeting bass that may be swimming in less than 3 feet of water, I believe the incoming tide is the best time to search for and catch these skinny water fish. I think this makes good sense, because the bass are more "confident" with the rising tide at their backs.
My most memorable shallow water fishing trips have occurred during the first stage of the incoming tide. In some Cape Cod fishing spots I have watched entire schools of stripers swim up over the edge of a sandbar and onto the flats as soon as the tide turned and began coming in. Seconds prior the sand flat was devoid of life, but as soon as the incoming tide flipped the stripers appeared from the depths and ventured into the skinny stuff.
The same theory seems to hold true around boulder fields and other less-dramatic sections of the shoreline. By less dramatic I mean areas with relatively little tidal change. In these spots the tide may rise and drop only a few feet (which is nothing compared to many sandbar type areas) however the same general rule seems to apply. Bass are more apt to move in closer to shore during the rising tide, especially the first part of the incoming tide.
Great fishing can certainly be had during the outgoing tide too. Keep in mind I really don't know what the hell I'm talking about here. I'm just making assumptions based off what I have personally observed. I know plenty of people, myself included, have enjoyed great fishing in shallow water during the outgoing tide.
However if I happen to have only 1 opportunity to go fishing for an entire week during May, I would make an effort to schedule my trip with the first part of the incoming tide.
Go-To Lures and Equipment
This past season I did all my early season Cape Cod surf fishing using a 6.5 foot medium action spinning rod paired with a Penn 440 SSG

spinning reel. I had the reel spooled up with 40 pound Power Pro braided line, connected via a Slim Beauty knot to 4 feet of 50 pound mono filament leader. All leaders were tied directly to the lure - no need for snaps or leaders.
This season I will be using the same equipment, however I plan on using lighter Power Pro. I am thinking 30 pound braid should be enough for what I like to do. With 30 pound I should be able to cast lighter lures and soft plastics with greater ease, while still having enough strength to horse a nice size bass away from a boulder or snag.
Last season I fished the entire month of May using a simple Cotton Cordell green mackerel pencil popper. I don't think I even bothered trying any other lures. The topwater hits and explosions were so much fun to watch that I figured why mess with what's working.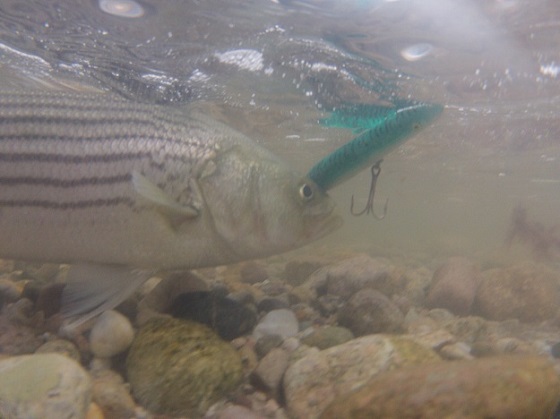 I do think that I will remove the trebles from all my plugs this season. Treble hooks can do a number on a fish, especially sub-legal fish. I may miss a bass here and there, but I'll feel much better knowing I didn't critically injure an animal simply for the sake of my own selfish pleasure.
Actually when fishing the Cape Cod Canal during 2012, my hookup ratio on really big bass (greater than 30 pounds) did not suffer much at all after I made the switch to a single hook. Cape Cod Canal fishing for me began with using plugs loaded with treble hooks, but I soon switched to using a plug with one extremely strong live bait style Gamagaktsu hook that we have used in the past on school bluefin tuna. Because the bass in the Canal were so big, they had no trouble sucking down the plug. The result was rock solid hook ups with very minimal damage to the fish.
Here's a photo of what I'm alluding to: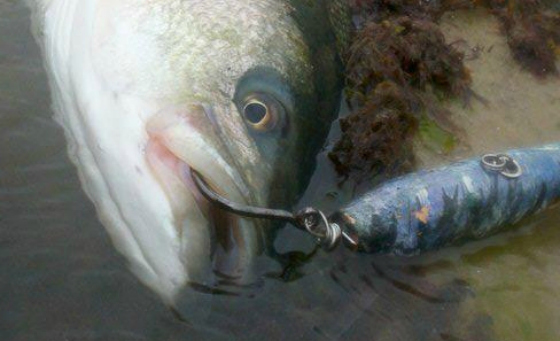 Another option that has worked well for me on skinny water bass is tossing soft plastics. In particular the Slug-Go or another Slug-go type lure like a Ron-Z or Hogy can work exceptionally well. These lures are made to be fished with single hooks, so the treble hook issue is not even a problem. Your casting distance will not be as impressive as with a topwater plug, however you will make up for the lack of distance with incredible fish attracting action and life-like appearance.
Soft plastics are in my opinion, the optimal lure to be using for spin fishing in shallow water. It's a stealthy option because soft plastics land much softer on the water's surface than a plug. They quietly glide through the water, just like a sand eel or some other slender profile bait fish.
My most productive soft plastic lure has always been a small or medium size black/grey Slug-Go. I used these almost exclusively when I was fishing the boulder field by my house growing up. I'd walk down to the beach each morning during the summer in my bathing suit with a pocket full of Slug-Go's. Those were some really nice memories and I get excited about spring just thinking about it.
When fishing shallow water with soft plastics, you don't want to add any weight to the lure. Actually, you could consider adding one of those slender insert weights into the soft plastic, but stay away from using sliding sinkers, jig heads etc. You want the soft plastic to be gliding perfectly right across or just below the surface of the water. Adding too much weight will cause the bait to sink too quick, which looks unnatural to the bass and will only get you stuck on the bottom.
When a bass bites a soft plastic, try to not immediately set the hook. I tend to wait just a moment (a second at the most) before setting the hook. Because the bait feels more natural than a plug, the bass will oftentimes grab the soft plastic and hold it just for a moment before spitting it out. If you can pause for just a split second before rearing back and setting the hook, you may begin to notice a slight increase in the % of successful hook sets.
Looking Forward
The saltwater fishing on Cape Cod will be in full swing in just under 2 months. If you are like me then you are now starting to really chomp at the bit.
I'll have plenty of cool stuff and up-to-date Cape Cod surf fishing reports coming your way beginning in May. This should be a really fun season, so I hope you stick around and become a Member or simply continue enjoying all the free content we have here on the MFCC blog.
Tight lines and take care,
Ryan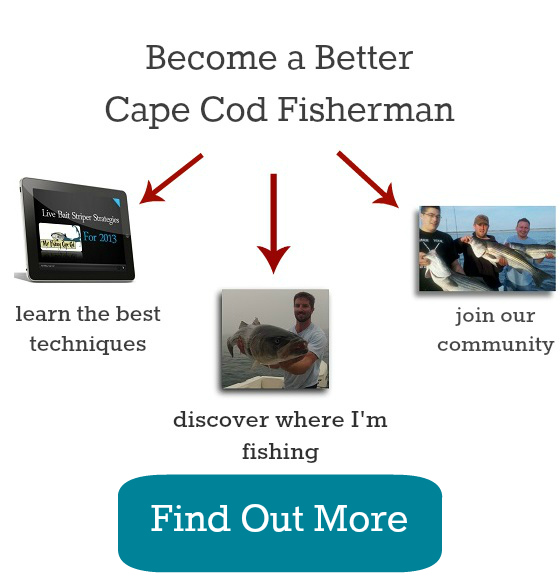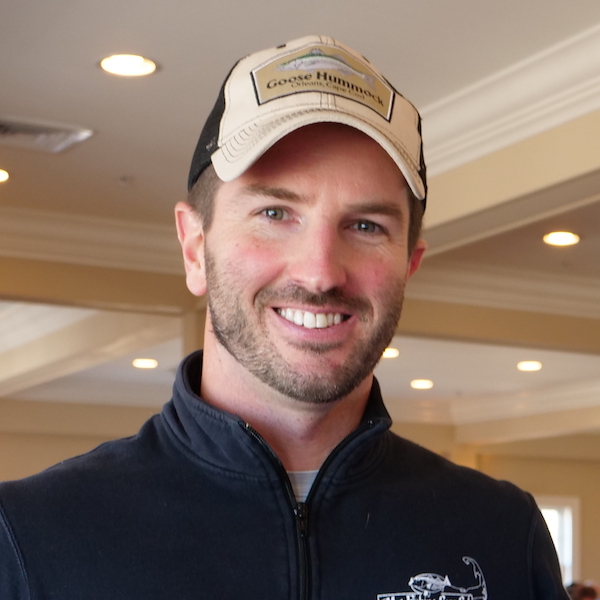 I'm fortunate to have grown up on the beach, and I've been fishing since kindergarten. I have great family, friends and fishing experiences to be thankful for. Just being out there is enough-catching fish is just a bonus!