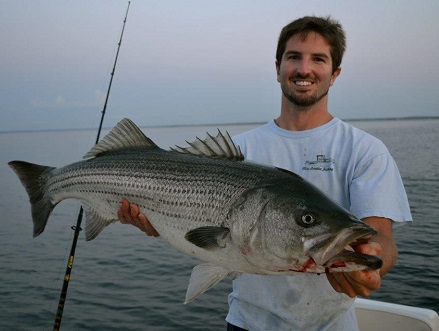 Welcome to My Fishing Cape Cod, a home for people who love fishing on Cape Cod.  I'm glad you're here.
The page below goes into more detail about the site itself.  You can also click on the links to learn more about me, fishing and Cape Cod.  There is also a list of Frequently Asked Questions.
Learn more:  About Ryan          FAQ          Fishing Cape Cod          Reports
The My Fishing Cape Cod community is a bunch of folks who like to fish our wonderful and beautiful area.  Many of us live year round on Cape Cod, some just for the summer and others just for a weekend.
Many people like to stop by the blog and browse our free articles and reports.  More serious anglers take it to the next level by becoming a My Fishing Cape Cod member.
Each week I write about my experiences fishing Cape Cod for striped bass, bluefish, tuna and other species.  Once in a while I will even post a report or article written by another angler who loves fishing Cape Cod just as much me.  You can follow along by subscribing to email updates, or just checking in here at the site.
More specifically:
I write about each and every fishing trip I go on, and report back here on the blog with how things went.  If I strike out you'll here about it, and obviously if I hit 'em hard you will too.
I create content geared towards helping you have a more fun and productive Cape Cod fishing experience.  I don't have all the answers but I'm happy to share what I know.

 
We are building an online community of people who love fishing and Cape Cod.  If you find yourself thinking about fishing multiple times throughout the day, you will be at home here.
About Ryan          FAQ          Fishing Cape Cod          Reports
I can be reached via email at Ryan@myfishingcapecod.com but a better way to get a hold of me is through social networks.
Come say hi on…