Fishing Cuttyhunk Island is something I have wanted to do since I read about Charlie Cinto's 73 pound striped bass, caught off Cuttyhunk in 1967. Legendary stripers, like Cinto's previous world record catch, is a big reason why Cuttyhunk is often called the "Mecca" of striped bass fishing. Throughout the centuries countless trophy striped bass have been caught on and around Cuttyhunk Island.
In addition to fishing, Cuttyhunk is also famous for its peace and quiet. People drive around in golf carts and the general store is only open for one hour per day. There are just a handful of full time residents and more often than not you will walk and fish a beach without seeing a soul. The pace of life is slow, which I find refreshing.
I became acquainted with Cuttyhunk through my father, because my dad has been visiting Cuttyhunk for as long as I can remember. Often times my mom, sister and I would get to tag along. Sometimes we'd take the ferry and my sister would get sea sick. Other times we would take our own boat and get stuck in choppy seas on the ride back to the mainland. Whatever happened, I found out at a young age that visiting Cuttyhunk is always an adventure.
My 2013 Cuttyhunk Fishing Adventure
I have had heard stories of huge bass invading the inshore boulder fields of Cuttyhunk during the month of October. I am referring to the true cows, 50 pounds and up.
Of course the odds of finding a 50 pound bass in less than 10 feet of water are always incredibly slim. These fish are tough to track down, fool and catch. However I believe that your chances for a giant striper are better than average, if you are casting at Cuttyhunk.
Getting to the Island
I began my Cuttyhunk trip in New Bedford, on Friday morning around 9AM. There's a ferry you can catch from New Bedford to Cuttyhunk for around $60 round trip. I liked this option better than taking my own boat to the island, especially with the 20 plus mph wind whipping across Buzzard's Bay.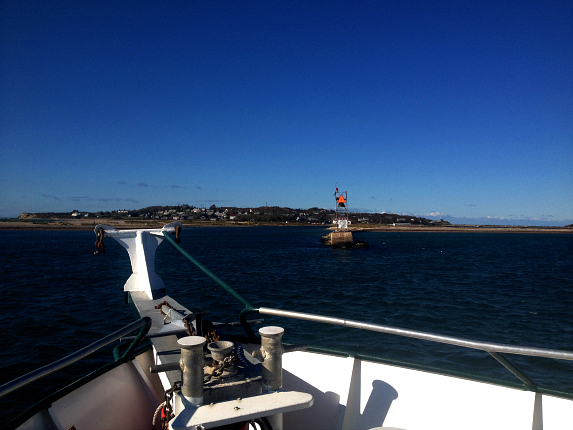 The ferry ride to the island is a piece of cake. I'll admit that it was nice not having to worry about navigating around the treacherous rocks and reefs of the Elizabeth Islands.
About an hour later I stepped off the ferry and onto Cuttyhunk.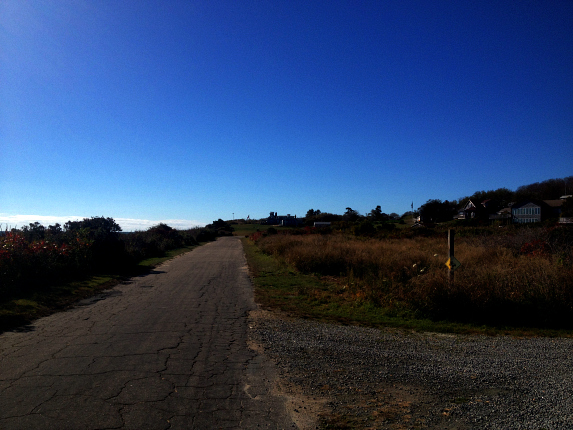 My mom and dad stepped off as well. I told them I was planning on staying the night, and they asked if they could tag along for the day and catch the 3pm ferry home. It was a great idea and having them there reminded me of my trips to Cuttyhunk as a kid.
The ferry docks in Cuttyhunk Pond, which is a wonderful anchorage and productive fishing spot. The harbor was desolate and most of the moorings had been pulled for the season. I was licking my chops because I knew I would have plenty of elbow room for fishing and wide open space for exploring.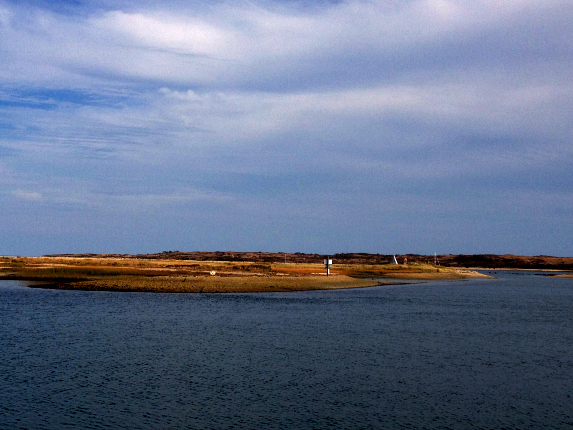 Pete's Place Rentals
"Are you Ryan?" asked a voice coming from somewhere to my left. It was Lexi, operator of Pete's Place rentals, ready with a golf cart to give me a ride to where I would be staying.
"Yep that's me" I said to Lexi before piling my clothes, food, and fishing gear into her golf cart. Everywhere on the island is within walking distance, but I'll admit it was nice to have a ride.
I will also admit that I thought about sleeping on the beach, which I've done on occasion. However once I saw the room and the view I knew that renting for the night was definitely the best move.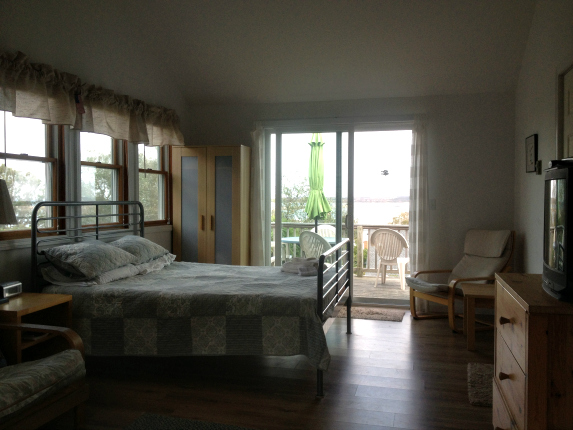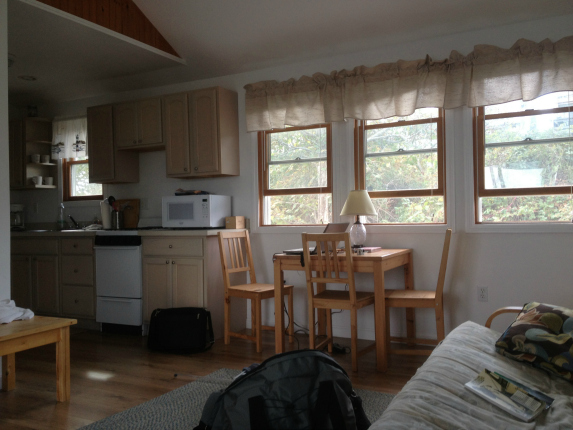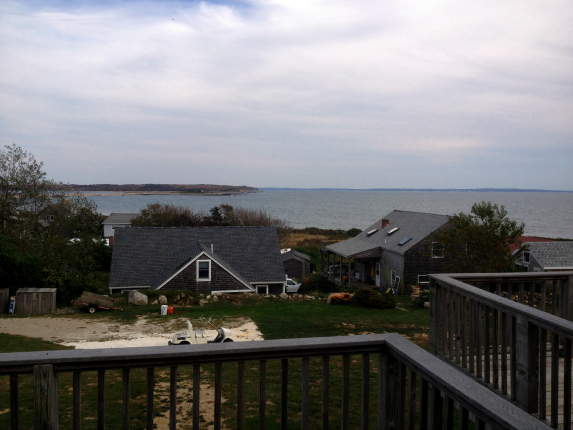 Cuttyhunk Fishing Spots
Once settled I ate a peanut butter and jelly sandwich and began strategizing where and how to fish. There is no shortage of productive spots to fish from shore on Cuttyhunk. The island is a bass magnet with a variety of boulders, reefs, beaches and inlets. I planned on plugging or casting live eels, based on my chosen location.
I sat there on the front porch, with Nashawena Island in the distance, trying to decide where to go first. Should I try over by Cuttyhunk Pond or hike to the Gosnold Monument? Maybe I should fish by the Pyramids or explore the cut at Canpitsit? The entire island is chock full of nooks and crannies worth fishing and exploring.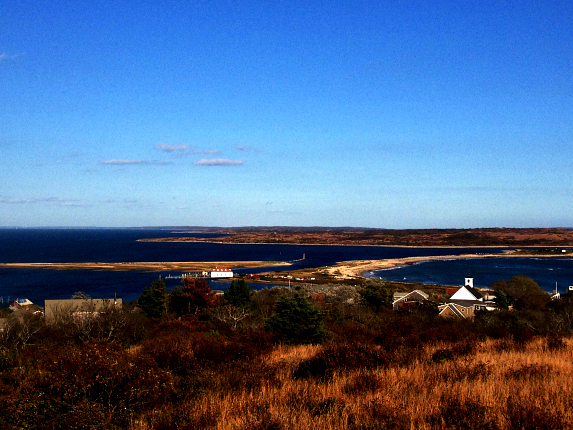 As I scanned over Cuttyhunk using Google Earth I realized that all these fishing spots have a legacy. In centuries past, big wigs, such as President Teddy Roosevelt, came to fish these same spots.
Back then the guys built rickety bass stands, and boardwalks that provided easy access to the best areas. If you look closely you can find the erosion-worn remnants of these stands, among the countless boulders and rock piles.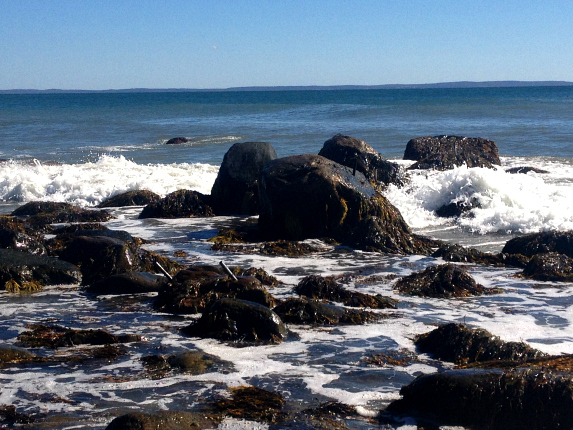 Cuttyhunk Fishing Techniques
Back in Teddy Roosevelt's time, the most popular method of fishing was to chum and fish with menhaden. The angler would sit on the stand or rock, and a hired chummer would cut menhaden into pieces and toss the chunks out into the water.
The smell of the fresh chum would attract striped bass into the area. If things went as planned the angler would hook up with a cow-size striper, and then hold on for dear life.
My chosen technique was a bit different. I wanted to first explore the entire island, and scout the area for what I thought would be the best spots. Then once the sun sank low in the sky I would return to the spot I thought would provide me with the best chance at a fish.
Fishing Cuttyhunk | Day 1
With my mind set on a general game plan I set off onto the boulder strewn coast of Cuttyhunk. I had a good 6 hours of daylight left to explore, scout and fish before dark.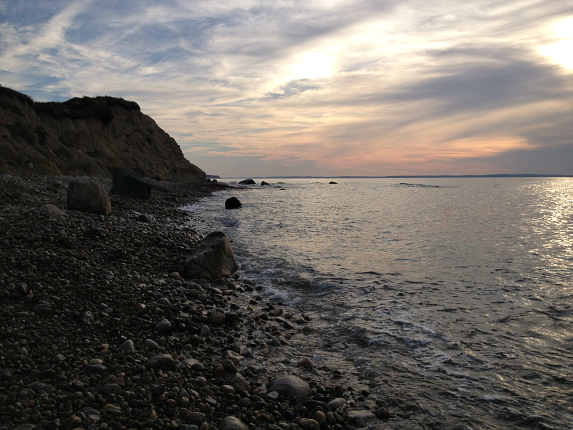 I felt as if the next 24 hours had a lot of potential. I was fishing in bass heaven and had miles of unspoiled coastline all to myself.
On top of all that I could feel Cuttyhunk's slow pace of life penetrating into my bones. I was surrounded by silence, the ocean and the occasional sea gull.
Welcome to Cuttyhunk. The next two Cuttyhunk fishing reports will take you all around this special island.
This past weekend I explored and fished 80% of the Cuttyhunk coastline.
You can come along for the ride by clicking on the Full Report button below.