This past December myself and a group from My Fishing Cape Cod traveled to Costa Rica, where we met Ryan for a week of fishing. During that week, we spent two days fishing by boat in the waters of the Golfo Dulce.
Our local guide Quincho chartered us in his panga-style boat the "Blackberry", named for his past penchant for drinking blackberry wine. Quincho built this boat himself, and it took him only a month to construct.

The Blackberry is a typical Tico boat, about 18 feet long, crafted mostly from fiberglass, with a shallow v-hull, low freeboard, and a blue roof supported by steel and wood framework.
More...
A 60 hp Yamaha outboard driven from the transom moves the boat at a surprisingly fast clip. While the roof can make it hard to cast, especially with five anglers aboard, it offers necessary relief from the sun.
Quincho, like every other Costa Rican we met, is extremely friendly and relentlessly helpful. He speaks little English, but we had no trouble communicating.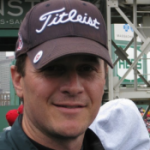 Jim joined MFCC as a member after a shoulder injury put an end to his obsession with golf. Jim bought a boat and moved from Boston to Cape Cod where he fishes for various species from shore and from his boat, which is moored in upper Buzzard's Bay.